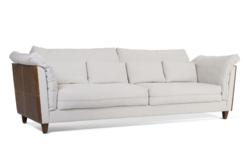 Inspired by the elegant and glamorous sport, famous for its speed and power
Miami, FL (PRWEB) May 21, 2013
Contemporary furniture Miami is available through the Polo Collection, now available exclusively at Saccaro. The Polo Collection is inspired by the elegant and glamorous sport, famous for its speed and power. The sport of Polo brings to mind the open field, freedom, and a broad horizon. A moment of contemplation of an infinite horizon is now translated into warmth, comfort, and relaxation. These feelings are beautifully expressed in the Polo Collection, a part of Saccaro's modern furniture Miami assortment. The designs are extremely inviting for reading, resting, or simply an enjoyable conversation. The collection has a neutral and timeless aesthetic in its design, and can be incorporated in any style. Selected outer leather upholstery is soft to the touch. The strong structure is set off by goose feather pillows and cushions to put you in the lap of comfort.
ABOUT THE DESIGNER
Ana Revello Vazquez-Renato Solio is a renowned partnership at work since 1984. They have been designing Saccaro furniture for many years, and have been awarded several major prizes. Saccaro is proud to now be presenting their brand new creation: Polo Sofa. The Polo Collection has already begun to experience major success in the industry of furniture Miami.
ABOUT SACCARO
Saccaro is a wonderful success story of family tradition that has resulted in international respect and popularity. Saccaro stands for respecting the forests, the ecology, and the workers who help build this unique collection of products. Saccaro is guided by the ancient Italian tradition of handicraft manufacturing from wicker baskets, which began 65 years ago by Albino Saccaro. He was inspired to develop the company's products with great care and respect for craftsmanship. Beginning in the city of Caxias do Sul in the southernmost state of Brazil, Rio Grande do Sul, Saccaro now manufactures indoor and outdoor furniture and decorative accessories. The company operates today in 25 countries with a network of 70 stores and hundreds of hospitality projects around the globe.
Saccaro works with award-winning designers working in conjunction with superb craftsmanship, innovation, materials, and techniques. These design masters bring us stunning and unique pieces of work. Quoting some of the designers, Saccaro is a "designer's paradise" as it allows the artists to reach the top of their creative skills.
The green principles of sustainability and renewal are important to Saccaro. The use of materials such as banana fiber, wicker, bamboo, eucalyptus and fast growing species in a controlled temperate forest assure 30 times more productivity. The process uses virtually every portion of the log, converting it to lumber and other usable by-products.
A variety of customized finishes as well as a large assortment of products can meet the most demanding requirements. Come visit our store and let our uniqueness into your life.
SACCARO MIAMI STORE
The magnificent Saccaro Miami pilot store is located in the fashionable Midtown-Design District with private parking facilities. It is a design friendly environment carefully created with elements that will visually dazzle and leave an indelible impression. The showroom features a designer's showcase, real Saccaro products, large screen TV's highlighting products and the Saccaro lifestyle, and a professional project presentation area where guests can see sample finishes while they sip Brazilian espresso.
For more information on Saccaro, contact their Miami store at (305) 576-0103, or visit their website, designed my Miami web design firm, NetroStar. For more information on NetroStar, contact Marcin Ladowski at (305) 577-9904.