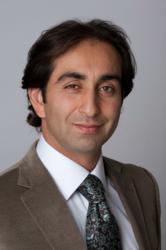 Paralysis of one vocal cord, aside from limiting speech, can also bring severe hoarseness and difficulty swallowing.
Beverly Hills, CA (PRWEB) May 22, 2013
For nearly a year, technology mogul and CEO of Google Larry Page, 50, has been unable to speak on large scales, limiting his participation in press announcements and product launches. According to a recent article published May 14th, 2013 by ABC News, Page has finally reviled thediagnosis of a nerve condition that limits his ability to move his vocal cords. Babak Larian, MD, FACS, and world-renowned head and neck surgeon says the disorder is not deadly, though it can cause debilitating symptoms.
"Paralysis of one vocal cord, aside from limiting speech, can also bring severe hoarseness and difficulty swallowing. It can occur as a result of a number of different factors, including a virus as in Larry's case, autoimmune disease, tumor, surgery or trauma."
Despite his battle with both vocal cord paralysis and Hashimoto's thyroid disease, a disorder that causes inflammation of the thyroid which leads to its malfunction, Page hasn't experienced any major setbacks and says he's feeling very lucky. Because Page's paralysis seemingly came out of nowhere, he's decided to fund research relating to the disorder.
"It's great to see that Larry is taking what some may consider a negative and turning it into a positive. As long as research continues in the medical field, I have no doubt that conditions like vocal cord paralysis and so many others will be better understood and possibly cured," said Babak Larian, MD, FACS, and expert ENT in Los Angeles.
At the CENTER for Advanced Head & Neck Surgery in Los Angeles, Dr. Larian treats patients experiencing similar conditions to Page. As Dr. Larian describes, vocal cord paralysis occurs because the vocal folds lose the ability to open or close.
"Because the nerve on the left side is usually longer, it's more common for vocal cord paralysis to be experienced on the left side, though it can be seen in both. If vocal cord paralysis doesn't improve after six months to a year, it's sometimes necessary to undergo a procedure to improve the voice, called vocal cord augmentation," said Dr. Larian, expert vocal cord surgeon in Los Angeles.
Dr. Babak Larian is a board-certified otolaryngologist and a Fellow of both the American College of Surgeons and the American Head and Neck Society. He has considerable expertise in minimally invasive surgery, which has made him one of the most sought-after physicians in the industry. Dr. Larian was appointed of Chief of Head & Neck Surgery at Cedars-Sinai Hospital in Los Angeles.
For additional information or to learn more about the head and neck procedures offered by Dr. Larian, please visit http://www.larianmd.com or call (310) 461-0300.