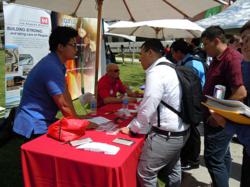 Scottsdale, AZ (PRWEB) May 21, 2013
Career fairs continue to be a popular method for employers looking for top talent. And they should be a consideration for any business looking to enhance their recruiting efforts
In a recent Society of Human Resources Management/Career Journal survey, over 70 percent of human resource departments said they rely on job fairs to recruit employees. These events provide an excellent opportunity for employers to meet a large number of potential applicants in a short period of time.
Many HR professionals may think that job fairs are only organized by large corporations or career-planning services, such as CareerBuilder. However, any-sized business can host a successful career fair right at its office or facility with minimal effort.
"Hosting a job fair is the perfect way to introduce your business not only to job seekers, but to the local community as well," said Jennifer Rojas, human resources manager at Appointment-Plus hr scheduling software.
A key component to ensure success is through effective marketing.
Here are four tips from Appointment-Plus for promoting your job fair:
1. Contact local media.
Most businesses seek local candidates when filling positions. This makes local newspapers, magazines, blogs, and television and radio stations perfect outlets to share your information.
Research local reporters and writers who've covered past job fairs. Once identified, write an e-mail introducing your business and the details of the job fair. Include the date, time, location and the specific positions you're looking to fill.
"Informing the local media about our career fairs has generated additional exposure for our company," said Rojas. "At our last event, a local television network sent a cameraman to cover it."
You can also submit your job fair information to online calendars on newspaper and magazine Web sites.
2. Promote on social media.
Job seekers are increasingly utilizing social media in their searches, which makes this outlet perfect for promoting your career fair.
Consulting firm Lee Hecht Harrison reports that 48 percent of job seekers are active on social networking sites on a daily basis.
"Social media is an increasingly important tool in a job search strategy," said Greg Simpson of Lee Hecht Harrison. "Job seekers must understand how hiring managers and recruiters are using social media in all phases of the selection process."
Additionally, the popularity of social media also makes it the ideal spot for marketing events.
According to Eventility.com, 84 percent of event organizers use Facebook, 61 percent use Twitter, and 42 percent use YouTube to promote events.
3. Advertise on Your Web Site.
Your Web site career page is the logical spot to advertise your career fair. It should also be the page you direct job seekers to for additional information.
Consider adding an event registration form to the page. This makes the on-site registration process easier and instantly adds job seeker information to your prospect list.
Learn how Appointment-Plus online scheduling software can improve your hiring process. Call 800-988-0061. Visit http://www.appointment-plus.com.
About Appointment-Plus: Appointment-Plus is the leading provider of online scheduling software for HR professionals and recruiters. It offers applicant self-scheduling, interview reminder notifications that reduce no-shows by 70 percent, and multiple appointments per time slot functionality. The software integrates with Outlook and Google calendars.