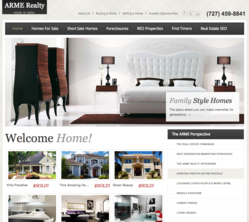 Largo, FL (PRWEB) May 21, 2013
Real estate is the latest industry to show signs of a comeback. Many markets are recovering from the 2008 lender meltdown and new home construction is at its highest point in a few years in many markets. With the rebound of the market comes new growth. ARME Realty.com, a Tampa real estate SEO company, is proud to be on the front end of this new growth with the release of their real estate web development toolkit.
The company has released a demonstration of this real estate SEO toolkit on their website ARME Realty.com, and the demonstration dives into the nuts and bolts of this program and how it is able to assist brokers and realty professionals with closing more deals.
"Our proprietary web development technology is able to produce quality, relevant content for any property type in any city, state, or zip code. By constantly creating fresh, relevant content covering every property type keyword in any desired range of zip codes, the broker is now able to canvass, online, all available organic search engine advertisements available and populate their website pages in these available ad slots. The result is highly increased web visibility and increased sales," states Simon Landers, spokesperson for the firm.
More and more people rely on the web to get their information about buying or selling real estate. ARME Realty.com states that many real estate professionals tend to build their websites around available inventory instead of building their websites around what people are actually looking for. With this technology, the site will grow every day, on auto pilot, around the keywords buyers and sellers alike are actually searching for. Real estate professionals can even break it down to the local zip codes in which they do business.
For more information on ARME Realty.com and their programs visit the website today or call (727) 459-8841 for more information.