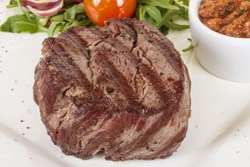 Anaheim, California (PRWEB) May 24, 2013
Broadview Mortgage held a luncheon at Morton's Steakhouse in Anaheim, California to welcome North San Diego YPN members. The luncheon took place at the same time as Inman News' "Agent Reboot", an industry event held at the Anaheim Convention Center.
Agents were also attendees of the Inman News event.
The bill of faire included filet mignon, salmon, and a veggie option. The total number of those in attendance was 61 with 50 of them being real estate agents.
"The motivation behind having an event like this is to bring the smartest, most tech savvy people in our industry into one room." says Scott Schang, a branch manager for Broadview Mortgage and the event's keynote speaker. "Every real estate agent is going to hear about the newest and best products at Reboot. The problem with that is every presenter says they have the newest and best, all they're trying to do is sell their product." says Schang.
Broadview Mortgage did not present on any specific product or solicit the sale of a product. This, says Schang, is the reason why he decided to have the event. "We don't care if you use a spreadsheet or a paper notepad, it's not about buying a get rich quick tool. You have to know how to use the tools you already have." says Schang.
The event lasted for an hour and a half, with a double chocolate mousse being served to complete the event.
For more information about Broadview Mortgage's technology or for general comments, you can contact the author at 714.244.7368.