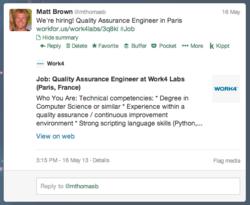 San Francisco, CA (PRWEB) May 21, 2013
Work4, the #1 Facebook Recruiting Solution, has integrated Twitter Cards into its award-winning social recruiting platform, enabling its clients to better engage job seekers across social networks.
Twitter Cards, which are offered only to Twitter-approved developers, are small attachments that are added to the bottom of a tweet. When a user clicks on the card, it expands and shows additional rich media, such as summary text, photo, or video. This allows Twitter users to embed more engaging content in their 140 character tweets.
Twitter Cards represent huge potential for recruiting via Twitter. The Work4 integration allows recruiters to embed job descriptions within a tweet to make it easier for Twitter users to discover jobs. When a user clicks on a tweet with a Card, they see the full job title and location, the company's logo, a snippet of the job description, and a link to read more.
"Cards allow us to put much more information about the job description within the Twitter stream. This enhances employer branding opportunities and job seeker experience, especially on mobile where display size and navigation are limited," said Work4 Director of Product Matt Brown. "This will be a huge advantage for recruiters who are looking to share jobs with potential candidates on Twitter."
Cards will be available immediately for customers using Work4's Social Recruiting Solutions to automatically post jobs to their social networks.