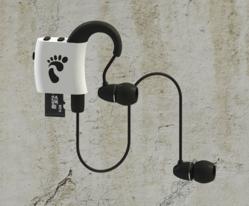 ITreq hangs on for the ride.
Monterey, CA (PRWEB) May 23, 2013
Vox One Labs is launching a technically advanced personal audio player that allows people on the go to enjoy music with no strings attached.
ITreq is a game-changing MP3 player delivering style, safety and unlimited storage in a revolutionary and comfortable design that hangs tight even during the most strenuous outdoor activities.
"We eliminated the long wires that keep you tethered to your devices and just get in the way," says Dennis Palma, Chief Technology Officer at Vox One Labs, Monterey, CA. "We've perfected the features needed to deliver freedom and function to mobile music lovers."
ITreq is an innovative solution for anyone who has ever struggled with dangling earphone cables getting in the way of a workout or earbuds that make listening to music more challenging than the exercise routine itself.
The single ear device provides powerful duel channel audio out of one earbud and features a short, second corded earbud for the option of full separation stereo sound going to both ears. The versatile design is an ideal safety feature for people who need one ear free to pay attention to their surroundings, work or talk on the phone with no interruption to their tunes.
Unlike other MP3 players, listeners can easily create play-lists on separate plug-and-play Micro SD cards ranging in size from 2 to 32 GB (500 to 8000 songs). This feature provides the unique ability to expand a listener's growing audio library and avoids the fixed storage capacity of other players.
Vox One Labs invites backers to support and pre-order ITreq on Kickstarter in arctic white, midnight black, or flash red. Manufacturing and delivery of ITreq are expected by September 2013. Kickstarter is a proven success in funding creative projects and backers are not charged for pledges unless funding goal is achieved.
View ITreq here and get ready to enjoy life with no strings attached:
Kickstarter link http://kck.st/18wAzu9
Contact: Dennis Palma
http://www.itreq.com
(831) 901-9783