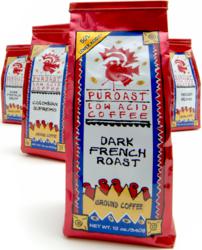 Offering a great tasting coffee which has 70% less acid and is also a good source of antioxidants represents a new alternative for people who love coffee and who want to live a healthier lifestyle.
Woodland, CA (PRWEB) May 21, 2013
Puroast® Low Acid Coffee has named former Johnson & Johnson executive Brian Perkins as its Chairman of the Board.
Among the many key positions held by Perkins at Johnson & Johnson during his more than 30-year career was as a member of the Johnson & Johnson Executive Committee, Worldwide Chairman of Consumer Pharmaceuticals & Nutritionals and President of McNeil Consumer Products. At J&J, Perkins helped to develop and build the market for such brands as Splenda®, Lactaid®, Tylenol® and Imodium®. Additionally, Perkins headed up J&J's Global Marketing Group and sponsorship activities for the Beijing Summer and Turin Winter Olympics as well the company's FIFA World Cup sponsorship.
Perkins is now an active venture investor, partnering with exceptional entrepreneurs in health/wellness and consumer technology sectors. The Juice Press, a fast growing chain of grab and go juices and 100% organic/raw food and SportsYapper, a social sports company which connects fans while they're watching a game are two of his investment companies.
As Chairman, Perkins will work closely with Puroast® management in many phases of its operations and planning, including marketing, public relations, brand development, retail channel expansion and strategic initiatives. Perkins' vast experience in building successful consumer product brands in the health and wellness category is particularly important to Puroast's operations and growth.
"We are thrilled to have Brian Perkins working with Puroast®," said company CEO, Kerry Sachs. "He is the most-qualified person to help us build market presence and continue our mission -- to introduce the enjoyment of drinking Puroast® Low Acid Coffee to coffee drinkers everywhere."
Puroast® is 100% coffee that combines a rich, smooth taste with 70% less acid than competing brands. The company is rapidly expanding its distribution and access to the nearly one quarter of US consumers who report irritation from drinking coffee.
"I'm passionate about working with talented entrepreneurs like Kerry Sachs who have exquisite insights into their markets and customers," said Perkins. "Kerry's relentless journey to find a better tasting, richer coffee has produced a remarkably great-tasting coffee and his proprietary, pure roasting process has yielded a product with substantial health benefits. I look forward to helping the team make Puroast® the next great coffee brand."
Puroast® Low Acid Coffee is found in many retailers throughout the U.S., including Wal-Mart and Kroger's, and is available on line through Amazon.com and at http://www.puroast.com