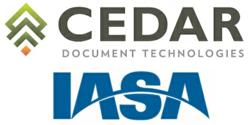 Atlanta, GA (PRWEB) May 21, 2013
CEDAR Document Technologies will exhibit at the 2013 Insurance Accounting & Systems Association (IASA) Educational Conference & Business Show from June 2 – 5, 2013 at the Gaylord National Resort & Convention Center in Washington, DC.
CEDAR will also participate in the Content Management and Workflow Vendor Connect Tour, where visitors will have the opportunity to learn how CEDAR is addressing the challenges of insurers by creating better processes and improving customer service.
"Emerging communication channels, regulatory disruption, and the constant pressure to become more efficient has significantly impacted the insurance industry," says Lee Nagel, CEDAR's Vice President of Insurance Practice. "IASA has provided excellent education and networking opportunities for carriers looking to overcome these challenges – we are proud of relationship with IASA and I am looking forward to the conference in DC."
To learn more, click here or email Josh Stancil at jstancil(at)cedardoc(dot)com.
About IASA
The Insurance Accounting & Systems Association, Inc. (IASA) is a non-profit, education association that strives to enhance the knowledge of insurance industry professionals, and participants from similar organizations closely allied with the insurance industry by facilitating the exchange of ideas and information. IASA is one of the insurance industry's largest, and most well represented trade associations. IASA membership includes insurance companies of all types (Property & Casualty, Life, Health, Fraternal, HMO and others) as members, as well as companies serving the insurance industry, regulators and also organizations more broadly representative of the financial services industry, including banks and investment brokerage firms.
About CEDAR
CEDAR Document Technologies is the leading provider of hosted multi-channel customer communication management and self-servicing solutions. CEDAR redesigns customer and agent communications to improve the user experience and CEDAR's platform optimizes the production, management and multichannel delivery of communications the processing of responses from communication recipients. CEDAR's platform lives between your core systems and your customers and agents, aggregating and transforming information into personally relevant communications and empowers business users to continuously improve the communication experience without requiring time-consuming or complex IT projects. Carriers use CEDAR to produce and manage policy documents and forms, welcome kits, underwriting letters and billing/claim correspondence.