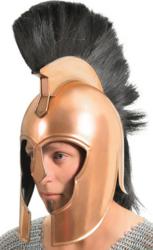 Los Angeles, CA (PRWEB) May 22, 2013
MoonCostumes.com has always specialized in custom costumes, and unique niche costumes such as cosplay and anime. The first collection of Greek and Ancient Military style armor is of the highest quality. Each piece is individually hand made, constructed using heavy gauge steel, brass, and copper. The replica armor is not assembled in a factory but is hand made using similar crafting techniques that you could expect from the ancient Greek and European armories.
The collection includes replica armor & helmets for battle heroes such as Achilles, King Robert the Bruce, and Gladiator Maximus. There are helmets which are perfect for Greek military, vikings, conquistadors, knights of the round table, roman centurion and roman officer.
It doesn't stop at helmets and armor. The new costume collection includes individual armor pieces such as heavy duty leather cuirasses, chainmail armor shirts, gauntlets, polished steel breastplates, greaves and boots. This allows for customization rather than a set outfit and gives collectors to create a precise look for their reenactment or event. Medieval swords of this collection have a very authentic look, and include heavy duty leather scabbards. The swords are "pointy" but do not have a very sharp finish to them, making them safe for battle recreations, and renaissance LARP.
There is also a full body Medieval Suit of Armor. Each suit of armor was individually crafted in a traditional fashion, made with 18 gauge steel with a shiny finish. This Medieval Knight costume stands at about 80 inches tall, and includes a jousting style helmet, breastplate, backplate, gauntlets, pauldrons, bracers, foot armor and greaves. The level of detail is what you could expect from a museum or Hollywood movie.
MoonCostumes also specializes in Halloween costumes, cosplay, mascots, and party supplies. They have ready to wear items and custom options for all of their costumes. For more updates, be sure to check out their costume blog, website or retail shop in Los Angeles, CA.
MoonCostumes.com
10867 W Pico Blvd.
Los Angeles, CA 90064
401-267-8863