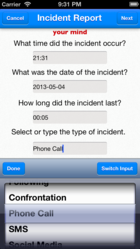 The ability to collect this information in one place and to have it in hand at any time makes this app a powerful tool for stalking victims.

Det. John. J. Baeza, NYPD (ret.)
Manhattan Special Victims Squad
Las Vegas, Nevada (PRWEB) May 22, 2013
StopaStalker from Epigold Inc provides victims of stalking and harassment with a concise tool to collect information, collate it, and report to authorities in a simple app made for victims.
StopaStalker was developed by a team of security experts, criminologists, support groups and retired law enforcement professionals to assist victims in the gathering of evidence of stalking behaviour. The goal was to provide a tool that will assist victims in the collection of information for submission to authorities.
The original idea for StopaStalker came from Mr Les Goldsmith, a security and risk management professional with experience in a number of stalking cases. Mr Goldsmith's vision was a mobile application to help put the pieces of the puzzle together for victims. "Too many times I have heard of victims of stalking not knowing what acceptable evidence was and how to collect it. Our StopaStalker app puts power back in the hands of victims." - Les Goldsmith
Epigold's team of experts interviewed stalking victims and support groups in determining what format the app should take. A number of law enforcement professionals contributed to the format the evidence is collected and what they would want to receive from victims. The overall result is a tool designed from the outset for the victim, to make the process of coming forward easier.
"Those experiencing stalking need all the help and support they can get. This app provides an easy way to grab as much evidence as is possible and ensure law enforcement obtain all the information they need to protect you!" Angela Daffron, Jodisvoice.org
For more information, visit http://stopastalker.com
About Epigold Inc:
A recently established company located in Las Vegas, Nevada. Focused on developing smartphone apps for personal and corporate security applications. The owners of Epigold Inc are security professionals with backgrounds in personal, industrial and government security.
Contact Information:
Les Goldsmith
Epigold Inc
les.goldsmith (at) epigold (dot) com
(702) 425 8598
Don't live as a victim, StopaStalker!