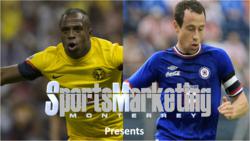 Club America and Cruz Azul will have the opportunity for a friendly rematch at the FC Dallas Stadium in Frisco, Texas.
Dallas, TX (PRWEB) May 22, 2013
After advancing to the finals in the Mexican Soccer League (Liga MX) 2013, Club America and Cruz Azul will have the opportunity for a friendly rematch at the FC Dallas Stadium in Frisco, Texas, June 30 at 2 p.m. This exclusive match game will be possible thanks to the International agency Sports Marketing Monterrey.
First team players are expected to play including America 's top goal scorer "Chucho" Benítez and Cruz Azul's former team captain, Mariano Pavone and FIFA World Cup for Mexico's Team, Gerardo Torrado, known as Borrego Torrado.
"We could not be more excited than to have TOP Elite soccer teams, Club America and Cruz Azul confirmed for the " Clásico Joven", in a few days from now, both teams will be disputing the final for the Mexican Soccer League and the "Clásico Joven" will be without a doubt full of action in the field," said Jorge Villalobos, Chief Executive Officer, Sports Marketing Monterrey.
Tickets are currently on sale at http://www.ticketmaster.com, FC Dallas Box Office, http://www.fcdallas.com and Fiesta Mart.
About Sports Marketing Monterrey: Founded in the city of Monterrey, Mexico by successful brothers Jorge and Javier Villalobos, with offices in United States. Sports Marketing Monterrey is focused on helping companies, Non Profits, Pro-Teams, athletes and governments to connect with the Hispanic market in meaningful ways.
The agency currently represents +47 professional athletes worldwide and promotes professional soccer match games with the TOP elite teams from Mexico and South America, among having the exclusive rights of elite Soccer Teams in United States for marketing, merchandising, match games, among other categories. http://www.sportsmarketing.com.mx
In an International level, Sports Marketing Monterrey provides consulting and business development services to companies, governments and sports clubs.
For more information contact us at: info(at)sportsmarketing(dot)com(dot)mx
Twitter: @SportsMKTMTY
Teams information:
Club América is an Elite Mexican football soccer club based in Mexico City, and competing the Primera Division Mexico's top league. Club América is one of the most successful clubs in Mexico. Domestically, the club has ten national titles, which places it tied for second most along with Toluca. Besides having ten domestic championships, América has eight FIFA recognized international club trophies, the most for a club from the CONCACAF region and tying them with Bayern Munich, Santos, Olimpia, and Étoile du Sahel worldwide.
Cruz Azul, one of the biggest teams in Mexico known as "Maquina Azul" has been the Primera División champions 8 times and trail only Toluca with 10, Club América with 10, and Guadalajara with 11. Cruz Azul was also the first Mexican or CONCACAF team to reach the final of the Copa Libertadores when they lost on penalties to Argentine football giants Boca Juniors.