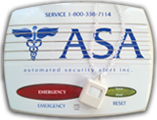 Pittsburgh, PA (PRWEB) May 23, 2013
Pittsburgh-based company Automated Security Alert focuses solely on allowing seniors to remain independent in their own homes for as long as possible. Jason Seyler, Automated Security Alert's Director of Life Safety, recently commented on how the company differs from other medical alarm service providers. He stated that although there are numerous companies in the United States that offer medical alarms, Automated Security Alert is rare in that they are dedicated only to health and well-being while most medical alarm companies are divisions of security companies. The Life Safety Operators at Automated Security Alert are trained to deal specifically with the needs of seniors and physically-challenged individuals, and monitor and respond to each individual situation. Seyler further commented that Automated Security Alert's approach is radically different from some medical alarm companies because Automated Security Alert assess each situation instead of automatically deploying an ambulance.
Seyler said that Automated Security Alert also differs from many other companies in that their systems have 24-hour battery backup. He has recently issued some safety considerations for people who are considering purchasing a medical alarm. "Because power outages are common in certain areas, it is very important to ask any company that you speak to if their medical medical alarm systems have battery backup. In rural areas, it can take days for power to be restored after a major weather event and seniors can be cut off from contact with their medical alarm company, leaving them extremely vulnerable. With Automated Security Alert, our system has 24-hour battery backup. If our clients use a standard land-line or cable modem with its own battery backup, they will know that they are covered even during a power outage."
Automated Security Alert, Inc. was founded in 1988 in Munhall, Pennsylvania. The company uses the newest technology to enable senior citizens, physically challenged persons, and recovering patients to maintain an independent lifestyle in their homes. Automated Security Alert offers a variety of medical alarms, medication management systems, and telehealth services.
For further information, please contact Matthew Couillard at 1.800.338.7114.