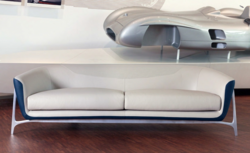 Emeryville,California (PRWEB) May 21, 2013
italydesign.com, located in the San Francisco Bay Area, is one of the country's leading resources for Modern Luxury Design Furniture and offers some of Italy's most prestigious brands.
italydesign.com is pleased to add the Mercedes-Benz Syle furniture to their collection.
The new Mercedes-Benz Syle furniture collection can be seen at http://www.italydesign.com .The addition of the Mercedes- Benz Style furniture complements their automotive themed luxury furniture collection which includes Interiors by Aston Martin, Tonino Lamborghini Casa, and the Pininfarina design group.
Mercedes-Benz stands for top quality and exquisite workmanship expressed with a passion for luxury . Mercedes Benz now brings their unmistakable styling and high standard of quality into the home.
In collaboration with one of the leading Italian manufacturers of designer furniture, Mercedes-Benz has created a furniture collection under the Mercedes-Benz Style label.
This new collection features progressive design with an unmistakable automotive identity. The Head of Design at Mercedes Benz Gordon Wagener states; "The various pieces of furniture reflect the progressive, dynamic design idiom of our current show cars and concept vehicles, offering an exclusive, emotional experience outside our vehicles as well".
The wooden backrest shells of the beds are inspired by the innovative design idiom of the seat shells in the current research vehicles. The padding is upholstered in leather or fabric and has a distinctively styled aluminum frame providing a visually appealing contrast. The visual dynamic of the seating furniture is carried over in the design of the dining room table and sideboard. From the table's central aluminum beam, four legs extend like elegantly sculptured spokes. The table top is made of grey-shaded clear glass. The sideboard has a glass door with a surrounding bevel reminiscent of the air intake on a sports car. Thus the automotive identity of the styling is visible and emotionally present throughout the entire furniture collection. The collection bears a subtle Mercedes-Benz Style logo.
italydesign.com has created a boutique styled hand selected offering of Italy's most interesting modern furniture collections. Their artistic and diverse collection is complemented by their 5 Star quality customer service which is reflected in their A+ rating with the Better Business Bureau. This commitment to customer satisfaction is a theme throughout each transaction from initial customer contact to final product placement.
italydesign.com displays their unique collection of architecturally designed Luxury Furniture in their 25,000 sguare foot facility.
On display in their Emeryville showroom are Italy's most famous furniture design brands as well as unique artisan pieces and their Modern Furniture Made to Order collection.
italydesign.com is located in the San Francisco Bay Area approximately 15 minutes from San Francisco in the East Bay City of Emeryville between Oakland and Berkeley.
Media Contact:
Customer Service
1-510-420-0383
1290 Powell Street
Emeryville, CA USA 94608
info(at)italydesign(dot)com