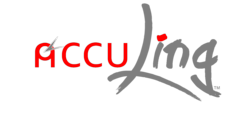 Push-button solutions make ordering and tracking translations easy.
Orem, UT (PRWEB) May 21, 2013
AccuLing™, a new translation services company, has launched in partnership with Western Standard, the maker of the industry-leading Fluency™ translation software. This technology gives customers new ways to obtain rapid, reliable and cost-effective translation services.
The name AccuLing comes from the startup's focus on providing accurate linguistic services. Localization industry veteran Adam Wooten will lead the business as CEO.
"The high-quality human translations that AccuLing's customers order will be accelerated by cutting-edge technology," says Wooten. "Fluency's push-button solutions make ordering and tracking translations easy. Expert translators also love the software because it intuitively speeds many quality assurance checks."
AccuLing offers translation of websites, documentation, software interfaces, marketing collateral and more. In addition to easy access to AccuLing via telephone and email, customers can quickly order translation work via an online client portal.
Organizations requiring timely and cost-effective translation of high-volume projects will find AccuLing's technology uniquely beneficial. Some clients, for example, need millions of words translated for ecommerce websites, technical support knowledgebases, or M&A diligence support. AccuLing's Fluency Collaboration Server and Project Management Server enable large teams to translate thousands of documents simultaneously for a fraction of the traditional time and cost.
"Some translation technology companies win customers with features that, in practice, are shallow marketing gimmicks," observes Wooten, "but then they lack the power to really improve what translators do. Sadly, some technologies actually slow translation turnaround or fail to enforce quality controls. Fluency delivers solid improvements in speed and accuracy for AccuLing because the technology was developed based on input from professional translators, not just marketers."
"We know Fluency will make translation easier for AccuLing customers, and AccuLing will also benefit existing users of Fluency translation technology," explains Mark Anderson, CEO of Western Standard. "Fluency's development team already has a reputation for being highly responsive to user needs, and our tight feedback loop with AccuLing will allow us to anticipate those needs even earlier."
Fluency currently tops the list of highest-rated translation technologies on the ProZ.com professional translation community. User-friendly technology is one of many benefits AccuLing uses to attract top translation talent. Linguists across the globe who meet rigorous selection criteria are able to collaborate with AccuLing managers via Fluency's online collaboration tools.
AccuLing's CEO Wooten has held leadership roles in sales and operations at other localization technology and services companies including Lingotek and Elanex. He is also a frequent speaker at industry events, an international business columnist for DeseretNews.com and an adjunct professor at Brigham Young University where he teaches a course on translation technology.
ABOUT ACCULING
AccuLing is a modern translation company that combines expert human translators with industry-leading technologies to accelerate translation turnaround, while also ensuring an accurate and cost-effective product. Our innovative translation processes and solutions make it easy for businesses to reach new markets, attracting and retaining international customers.
ABOUT WESTERN STANDARD
Western Standard is a Utah-based company that provides cutting-edge electronic research and translation tools. Our publishing staff has decades of experience producing high quality electronic databases and multilingual search tools. Our Fluency™ translation technology has been touted by translation industry professionals as the most responsive and fastest-developing software on the market.