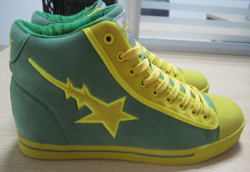 The giant brands might spend a lot of money to 'watch the street', but the Star Rich™ team IS the street, and they are incorporating the feeling of what their clients want with their Hip Hop background to make a winning shoe fashion formula
Huston Texas (PRWEB) May 20, 2013
Huston's own Richard Alele, fashion designer and founder of Star Rich™ Shoes and his unstoppable support team continue to amaze with the launch of their new website and steadily increasing sales to include the just arrived Classic edition along with the earlier Glow edition and original Skull edition, plus a growing clothing line to begin with Star Rich™ T's.
"Star Rich™ Brand's founder, Richard Alele, and his fantastic team are just amazing in how they've moved so quickly to build their exciting new brand, a combination of great styling, excellent quality product and super 'street' marketing," says Winnie Peng of Shoe-Manufacturer.com.
Peng continues:
"The talent and energy of Richard Alele and his power team are pushing sales of the Star Rich™ brand faster than I think anyone would have imagined.
"The first shipment of 'Classic" edition has barely arrived, and already we're making plans to begin production of the next generation.
"The giant brands might spend a lot of money to 'watch the street', but the Star Rich™ team IS the street, and they are incorporating the feeling of what their clients want with their Hip Hop background to make a winning shoe fashion formula.
"Don't be surprised to see Star Rich™ brand shoes on Hip Hop TV in the very near future, with millions of viewers catching the Star Rich™ look.
"We congratulate Richard Alele and the Star Rich™ team on their continued success."
About:
Winnie Peng is Senior Project Manager for China Product Sourcing and Marketing Ltd. (CPSM), fashion manufacturer and leading producer of footwear for independent designers and footwear importers around the world, Shoe-Manufacturer.com , and previously Senior Inspector of Quality Control and Corporate Compliance for Best Seller of Hong Kong, supplier of Europe's largest fashion retail group, Best Seller.
Contact:
Winnie Peng
email: winnie.chinaproduct(at)gmail.com
Tel (USA) 1- 336-775-8615,     
Tel (China) 136-6233-4753 
Skype:   winniethepooh9      
 
About:
 
Lexis Global Marketing LLC (LGM) works with client companies to
develop and implement their marketing programs and strategies,
domestically and internationally. http://www.LexisGlobalMarketing.com
 
Contact:
 
David Amos, Director
Lexis Global Marketing LLC.
Tel 1-336-817-7376
Email: damos(at)lexisglobalmarketing.com
Address:
931-B South Main St., Suite 154, Kernersville NC USA 27284