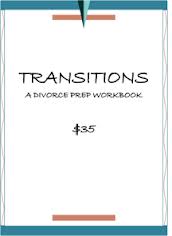 The Best Investment I Have Ever Made
Atlanta, GA (PRWEB) May 21, 2013
Transitions Resource, LLC, a Divorce Consumer Advocacy, is proud to announce the formation of multiple Divorce Support Groups in Metro Atlanta serving those who have completed the divorce process.
These newly formed groups throughout Metro Atlanta are facilitated by Licensed Therapists who will take the group through a structured 14 week group program. The program is designed to validate common emotions associated with the change in family structure related to divorce and enable participants to recapture their joyful persona post-divorce.
Kelley Linn, President of Transitions Resource, LLC states, "Our newly published support group program, entitled Transitions Resource Recover/Discover builds on the holistic healing model of personal growth published by Dr. Jessica Blalock, Ph.D. in her workbook entitled Discover Yourself, A Personal Development Workbook. Transitions Resource has also developed an additional Bible Study tool for church groups entitled Transitions Resource Recover/Discover in God's Word that takes participants through a similar process utilizing Bible verses and Spiritual reading citations.
According to Linn, the most important sessions of the support group programs are focused on the ability for participants to share common emotions of grieving related to the trauma of divorce in a productive way. Some support groups are unstructured and simply result in an opportunity to air grievances about ex-spouses leaving participants with a feeling of "misery loves company."
Linn states "Since our organization is dedicated to reducing the wounding of divorce, we wanted to provide a format geared more toward healing and moving forward post-divorce rather than staying stuck in self-destructive negative emotions that only relive past pain of difficult relationships."
What Participants and Professional Facilitators of the Group say:
Clare, Group Participant, "I was tired of being angry and didn't know where to turn for help, my Therapist recommended this group and what an incredible perspective-changer it has been for me. I loved the new skills it taught me to let go of my past and move toward an exciting new future, whatever that may hold."
Sharon, Group Participant, "My Transitions Resource Divorce Support group has helped me to process where I am and what I need to do to ensure continued forward progress and healing. It's comforting to know that I am not alone, that the others in the group understand what I'm feeling, and that life after divorce can and does hold hope!"
Dawn Echols, Licensed Professional Counselor & Registered Mediator, Group Facilitator, "The Transitions Resource support group program directly addresses recovery from divorce in a healthy way. Group interaction is a valuable and necessary part of our human psychology. I have already referred individuals to Transitions Resource for their tools and resources."
Leslie Dinkins, Licensed Clinical Social Worker, Group Facilitator, "Divorce is very isolating and with these groups, participants will find comradery and shared experiences that will allow them to minimize the isolation and give them a sense of belonging as they move forward in their lives."
You may visit the Transitions Resource website to learn more about the available support groups. Professional Therapists interested in starting their own Transitions Resource Support Group are encouraged to contact the organization via email at info(at)TransitionsResource(dot)org.
Transitions Resource, LLC was founded in 2010 as a not-for-profit Divorce Consumer Advocacy. Their mission is to provide resources and tools to individuals to minimize the financial and emotional wounding and maximize the recovery and healing of divorce.
Transitions Resource offers a comprehensive Transitions Divorce Prep Workbook, available on Amazon.com that guides one how to prepare prior to securing an Attorney. This easy to follow step-by-step workbook shows how to reduce unnecessary professional fees and ensure an efficient and effective outcome for the family.
Transitions Resource Institute, a division of Transitions Resource, LLC provides an accredited Family Divorce Advanced Continuing Education Series to professional counselors and coaches in order to help them best serve their divorcing clients.
The Transitions Resource Recover / Discover Workbook and the Transitions Resource Recover / Discover in God's Word Workbook, both available on Amazon.com are published tools for Divorcee Support Groups to help share experiences. The 14 session structure helps participants validate common emotions related to the change in family structure and re-discover the joyful persona post divorce. These workbooks are an adaptation and are designed to work in tandem with the holistic healing model introduced by Dr. Jessica Blalock, Ph.D. and published in Discover Yourself-A Personal Development Workbook, also available on Amazon.com.
All net proceeds from the sales of Transitions Resource, LLC published workbooks are donated to causes that serve victims of domestic violence.