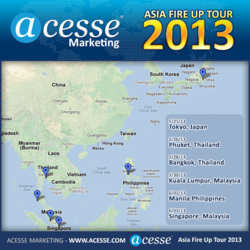 Fire up your business and get off to a fast start with the Acesse Fire Up Tour 2013. - Steve Renner, Founder of Acesse
Minneapolis, MN (PRWEB) May 21, 2013
The Acesse Fire Up Tour 2013 begins in Tokyo, Japan on May 21, 2013 in the beautiful Shinagawa Kumin Hall. Acesse will be offering an impressive presentation of the company's newest Products, Services, and Business Opportunity to current, new, and potential Members in five countries and six cities across Asia.
"Fire up your business and get off to a fast start with the Acesse Fire Up Tour 2013," said Steve Renner, Founder of Acesse.
Acesse will be visiting Thailand, Malaysia, Phillipines, and Singapore as well as Japan. Bob Kinsella, President of Acesse, Annie Zhang, Top Chinese Leader, and James Wong, CTO of Acesse will lead the presentations across Asia. Together they will unveil Acesse's newest products and services including its Mobile Services and Business Services.
The Acesse Fire Up Tour 2013 has been long awaited by Asian Leaders and Members and Acesse is excited to share its newest services and opportunity. Conferences will be free and open to the public. Exact destinations include:

Tokyo, Japan – May 21, 2013 – Shinagawa Kumin Hall
Phuket, Thailand – May 26, 2013 – Sold Out
Bangkok, Thailand – May 28, 2013 – The Palazzo Bangkok, Din Daeng
Kuala Lumpur, Malaysia – May 30, 2013 – Vivatel Kuala Lumpur
Manila Philippines – June 1, 2013 – Holiday Inn Hotel, Ayala Center Makati
Singapore – June 3, 2013 – Grand Park City Hall, Peninsula Plaza