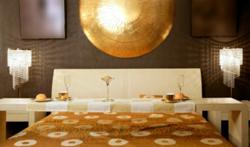 Fortunately, a unique furniture arrangement is easy to tweak regularly until the proper balance has been achieved in the layout.
San Francisco, CA (PRWEB) May 21, 2013
Often the focal point of a room is an obvious architectural detail, such as a fireplace or a large picture window. As many home dwellers have shown, the focal point can be a design detail that is a lot more original. For some home owners, an effective visual focus is created by applying a sumptuous accent color to one wall, perfect for the installation of a beloved oversized statue of Buddha or other prominent sculptural wall decor. Additional accents can be created with a graphic art or painting collection artfully framed and grouped together on a long wall. A traditional room design can be developed with architectural ceiling trim and distinctive rug details. These design suggestions are just a few of the ways to get the most out of a room's interior design. At KindaChic.com, an online home furnishing and décor website, distinctive decorative elements are available along with unique modern furniture designs to augment the selection of a room's focal point.
If the home is a rental, the lessees may want to create the room's focal point with a furniture layout that accentuates the room's dimensions. In a room with cozy dimensions, this can be achieved by using only a modular or wraparound sofa for seating. The viewer's interest will be drawn to the furniture design rather than to the lack of square footage. Using this type of sofa eliminates the need for additional seating. The simplicity of this interior design will pop with the addition of a pair of distinctive table lamps. Another idea for lessees is through the placement of artfully designed side chairs adjacent to a modern style sofa and love seat. Colorful and skillfully crafted side chairs will provide the intimate details to this room's design. The simplistic details found in the construction of the sofa and love seat will help showcase the craftsmanship of the seating. A modern style furniture design can also help showcase distinctive décor collectibles as well as a painting or sculpture collection.
Want to highlight a home area that is devoid of architectural styling? Consider hanging a grand chandelier or pendant lamp with distinctive construction details. This chandelier will be the room's focal point. The furniture design should not compete with the design details of the light fixture. Let this fixture carry the charm of the room's style. A large distinctive coffee table can be the appropriate counterpoint to the pendant light fixture. Another idea to consider in a featureless room is a unique furniture layout. This simple idea can be a success dependent on the size and shape of the room as well as each furniture piece. Fortunately, this idea is easy to tweak regularly until the proper balance has been achieved in the layout.
Large decorative elements will enhance colorful walls and featureless construction. An oversized wall clock or original artwork may be all that is needed to jazz up the design. Architecturally crafted room dividers provide form, function, color and texture that a room is missing. Selecting boldly patterned upholstery or a uniquely curving sofa are simple ideas to employ as room accents. To achieve the right balance of size with shape and form with function, in a home design, takes time mixed with patience in experimentation. A second look at the design opportunities available at KindaChic.com can provide the deciding factor.