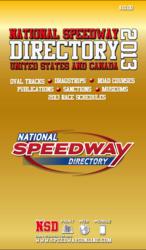 Wilmette, IL (PRWEB) May 21, 2013
The highly anticipated source for race tracks hit the shelves in mid-May. The 2013 National Speedway Directory lists a total of 1,320 auto racing facilities. It is the most comprehensive publication of active tracks in the United States and Canada available anywhere. This book lists detailed information on oval tracks, dragstrips and road courses. The phone numbers, addresses, exact directions, nights of operation and type of racing are included in this handy 592-page paper-back book.
Listings for approximately 330 sanctions, 50 racing publications, and 50 racing related museums, pushes the total to over 1,740 motorsports related listings. The 2013 schedules for over 225 circuits are also included.
The new edition is essential for planning vacations and race outings. Race fans and industry professionals can depend on the National Speedway Directory for the most accurate and updated directory of race tracks in North America.
The price for one copy is $15.00 (includes postage) or two copies for $25.00. Orders can be placed online at http://www.speedwaysonline.com or emailing orders(at)speedwaysonline(dot)com. Checks or money orders can be sent to: National Speedway Directory - 909 Seneca Road - Wilmette, IL - 60091.
About National Speedway Directory and Track Guide
National Speedway Directory (http://www.speedwaysonline.com) is the trusted information source for the motorsports industry. It prints listings of oval tracks, dragstrips, road courses, sanctions, publications, museums and race schedules. National Speedway Directory has been published annually since 1975. The book is also available as a digital edition for iPhone and Android devices.
Track Guide (http://www.trackguide.com) is the new mobile app for iPhone and Android devices, which puts race track and event information and directions right in the palm of your hand. Users can locate their favorite tracks or events, anywhere, anytime.
For Additional Information, please contact:
Timothy W. Frost, Publisher
National Speedway Directory
909 Seneca Road
Wilmette, IL 60091
(847) 853-0294 (w)
(847) 778-9475 (c)
(847) 853-8763 (f)
twfrost(at)speedwaysonline(dot)com
http://www.speedwaysonline.com