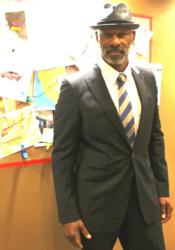 Santa Monica, CA (PRWEB) May 21, 2013
Reality TV sensation Phillip Sheppard of CBS Survivor is not done yet, not by a long shot.
In fact, as an internet marketing genius, a social media whiz and a TV celebrity, he is just getting started. Since ending his latest run on the hit reality show (Survivor, Fans vs. Favorites), Sheppard has pushed his new action novel, "The Specialist: The Costa Rica Job," straight to the top on Rakuten, Amazon's biggest rival in worldwide book sales. Dominating a 500K fiction catalog like Rakuten's and sustaining that lofty perch for weeks on end might satisfy some reality stars, but not Sheppard.
"It's all pretty heady stuff, but I'm never content just to be satisfied. It's not in me. I always want to do more," said Sheppard in a recent interview. "I always look to engage the fans, too. They're really what it's all about."
His latest comic turn on 'Development Hell,' a web-based comedy series, proves that 'The Specialist' can win over fans by laughing at his own expense. Created by Aria Inthavong and Devon Henry, "Development Hell" has amassed an audience of over 200,000 viewers in only its first four episodes.
Sheppard, dubbed "iconic" by Survivor fans and "one of the most entertaining players in Survivor history" by no less an authority than "Boston Rob" Mariano, brings his unique brand of entertainment into the Development Hell fold this Thursday, May 23rd, playing Dr. Dick Emerson, a former federal agent and private investigator that takes his job far too seriously "It's a great comic sketch with sharp, fast paced humor," said Sheppard, "and hopefully it's the start of something bigger."
Sheppard's image also features prominently in the "This Is What The Specialist Wears" sales campaign of 'Bel Mundo' Men's Store in Santa Monica, California. On June 19, Sheppard will appear in person at Bel Mundo to meet fans and sign purchased copies of "The Specialist: TCRJ." Despite all the attention surrounding his hot new bestseller and his iconic Survivor run, the reality star keeps things in proper perspective.
"I can't thank CBS Television and Mark Burnett Productions enough. They are the ones who put me on the show, and they have made it a wonderful experience for practically everybody. It's great TV. I'm very proud to be a part of it."