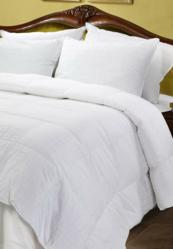 Chicago, IL (PRWEB) May 21, 2013
Nature Relax, a leading innovative home textile company based in Chicago, announced a new line of luxury Aloe Vera infused bedding products on their website.
Providing the ultimate comfort during sleep with the added benefit of the natural Aloe Vera plant, Nature Relax has delivered a truly special product. Unlike conventional down linens made from polyester, the Nature Relax line uses only 100% premium grade cotton up to 1000 thread count with an Aloe Vera treatment.
"We strive to provide consumers with only the best and we are very proud to introduce our new line of feature-rich luxury linens. After all, you spend a third of your life in bed, why not be as comfortable as possible? That's what we've achieved with these Aloe Vera infused down linens" says Nature Relax.
Using the advanced nano technology, the Aloe Vera extract is bonded with the cotton to give the linens not only a silky smooth feel, but a long life as well. This technology embeds the Aloe Vera into micro waterproof capsules, which then are implanted directly into the cotton fiber.
Aloe Vera is known for its many medicinal and cosmetic purposes and has been utilized for thousands of years. With many therapeutic qualities, Aloe Vera can be used internally and externally. It acts as an astringent, which constricts blood vessels and the skin to help prevent sweat, while acting as an emollient at the same time to help moisturize the skin. Aloe Vera is also a natural anti-fungal and anti-bacterial compound, helping to keep the linens naturally clean.
About Nature Relax:
Headquartered in Chicago, IL, Nature Relax is a leader when it comes to innovation in the global home textile market. Designed in Chicago, IL, these luxury linens are produced from top quality down and cotton material at an affordable price. Nature Relax is using innovative technology to provide a full line of feature-rich luxury white goose down comforters, sheet sets, pillows, mattress covers and duvet covers. All Nature Relax products come with 10 years warranty.
To learn more, visit http://www.NatureRelax.net
To shop online, visit http://www.amazon.com/shops/NatureRelax