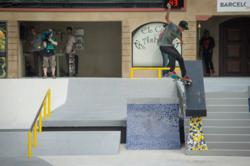 (PRWEB) May 22, 2013
Monster Energy's world-class team of athletes had an amazing weekend at X Games Barcelona 2013. The crew bagged a total of ten medals across skateboarding, BMX, and moto disciplines, and all the highlights from the weekend's action can be seen now at monsterenergy.com.
Leading the BMX charge was Jamie Bestwick, who further solidified his legacy by taking a record eighth gold medal in BMX Vert. He began his dominant winning streak in 2007, winning every event since then. He's won more consecutive gold medals than anyone in any discipline in X Games history. His Monster Energy teammate Vince Byron took the bronze, making for two Monster Energy riders on the BMX Vert podium.
Vince Byron was one of the few riders to earn two medals at X Games Barcelona 2013. His first was a bronze in BMX Vert. Then on Sunday night he wrapped up the weekend with silver in BMX Big Air—he pulled a crazy 360 double downside tailwhip over the gap then a no handed 540 on the huge 27-foot quarter pipe.
Adding to the successes for Monster Energy BMX was Scotty Cranmer and his bronze in BMX Park. His smooth and tech run resulted in his seventh X Games medal (including three gold).
In Street League Skateboarding, Nyjah Huston once again claimed the gold medal following his Foz do Iguacu X Games gold medal win in the event last month. Heading into his last try on the last section he needed something huge if he was to take gold. He delivered with an incredibly difficult hardflip over the hubba for an 8.5, edging out Paul Rodriguez for the win by just one tenth of a point. After, he said, "I have never been put in such a high-pressure situation like that at Street League. I've never had to challenge myself with such a difficult trick for the last try. It was the most intense skate contest battle ever!"
Monster Energy swept the podium in Moto X Best Whip on Sunday night, with Edgar Torronteras taking gold, Jeremy "Twitch" Stenberg silver, and Josh Hansen bronze. The crew had the Spanish crowd going nuts as the Monster Energy crew threw their bikes around the stadium. After, an emotional Torronteras exclaimed, "Thirty years ago I started riding moto and dreamt that maybe one day I would win a gold medal. Today I won a gold medal, and it is the best day of my life! My dream is complete."
Hansen also medaled that night in Moto X Step Up, surprising everyone by taking the silver. Usually more focused on racing, he's only competed in Step Up twice (the first time just one month ago). None-the-less, he cleared the 30-foot bar to earn the medal.
After a long break from competition, Nate Adams returned strong with a bronze medal in Moto X Speed & Style thanks to his unique backflip variations. This is his 15th X Games medal.
Part of the new global concept for X Games, Barcelona was just the latest stop on the X Games world tour. Events in Aspen, Colo.; Tignes, France; and Foz do Iguacu, Brazil happened earlier in 2013. Next, X Games heads to Munich, Germany (June 27-30) before finishing off in Los Angeles, Calif. in August.
Monsterenergy.com is the place for all the highlights from the spectacular four days in Barcelona, including full results, recaps, and exclusive photos.
###
About Monster Beverage Corporation:
Based in Corona, California, Monster Beverage Corporation is the leading marketer and distributor of energy drinks and alternative beverages. Refusing to acknowledge the traditional, Monster Beverage Corporation supports the scene and sport. Whether motocross, off-road, NASCAR, BMX, surf, snowboard, ski, skateboard, or the rock and roll lifestyle, Monster is a brand that believes in authenticity and the core of what its sports, athletes and musicians represent. More than a drink, it's the way of life lived by athletes, sports, bands, believers and fans. See more about Monster Beverage Corporation including all of its drinks at http://www.monsterenergy.com.