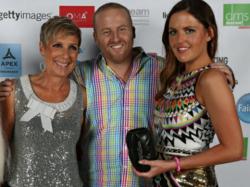 Whilst we're congratulating current students, we really must send out a bunch of proud bear hugs to all The AdSchool grads
Auckland, New Zealand (PRWEB) May 22, 2013
Congratulations to Timothy Gavriel, Jimmy Kaufisi, Kieran Beck, Sam Pascoe, Priya Ratan, Kiran Strickland, Renee Warner and Hannah King who are off to a great start in the industry. The AdSchool students entered the Bees Awards honouring world's best social media marketing executions of the year.
"Whilst we're congratulating current students, we really must send out a bunch of proud bear hugs to all The AdSchool grads that did so well at the Axis Awards last week," says Kate.
The executive judging panel awarded the Emerging Talent Award to Ben Polkinghorne and Anna Stickley (pictured) for 'demonstrating outstanding talent as newcomers to the industry', and also awarded them an Axis Gold for their Samsung Instant News Satire as well as two silvers and four bronzes for Samsung and their Trial by Timeline for Amnesty International.
Polkinghorne has just been picked as one of 35 creatives under the age of 28 to attend the 2013 Young Creative Academy in Cannes.
Meantime, The AdSchool graduates Graeme Clarke won a Gold Axis and a swag of silvers and bronzes for The V Motion Project; Tom Paine was part of the team that won the Gran Prix from the Craft jury for the Metamorphosis campaign for Good Books; Emily Drake and Sarah Litwin-Schmid were in the Axis Gold winning team for Toyota's cat commercial; And Iain MacMillian, Anthony Wilson, Tamryn Kerr and Rachel Walker all picked up some metal on the night.