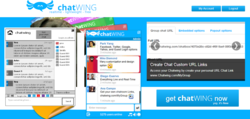 New York, NY (PRWEB) May 22, 2013
Chatwing.com has launched its latest chat software with a user detection feature. The intention of the developers is to bring higher accessibility setup for registered Chatwing admins and chatroom visitors as well. The user detection feature came after the introduction of Chatwing's chatroom network setup. Along with this new feature, the developers have also improved the other parameters of the chatroom.
The user detection feature is notable on the right side of the embedded feature. This will display all active users, along with the messages they typed. According to the developers, the user detection feature is somehow similar to the message history, except that it is expanded and more useful for Chatwing admins. Some users have also remarked that the new chatroom theme is flexible and does not affect the overall speed of the chat app.
Weeks ago, the Chatwing chat software team also launched a chat box linking feature that offers higher flexibility for many admins and users. Once this feature is combined with the user detection theme, website owners can now monitor the chat app easily. This is useful, especially if there are many linked chatrooms and there are hundreds of active web users. Active users detected in the chat app theme can also receive social media invitations.
Currently, Chatwing's developers are reaching out to people in the blogosphere and different online portals. The developers are explaining the importance of this newest chatroom theme. They also ensured that more themes will come in the following months, granting higher stakes of leverage for all web users. Updates about upcoming themes will be posted in Chatwing's official Facebook page.
About Chatwing.com
Chatwing.com specializes in the new field of website chat. Over years, the Chatwing team has introduced live chat widget for hundreds and thousands of blogs. The Chatwing chat application bridges people from many parts of the world, creating global synergy through the Internet. The shout box can be installed in just seconds, and it can be used for varying purposes such as leisure and Internet marketing. It also allows a user to customize the size, color, and name of the widget.