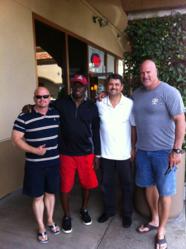 San Diego, CA (PRWEB) May 21, 2013
All Pro NFL players join Pro Player Health Alliance(PPHA) to help spread awareness on the deadly disorder, obstructive sleep apnea (OSA), today at Scripps Memorial Hospital. Taking stage for the "Tackle Sleep Apnea" campaign are the likes of Roy Green, Mike Haynes and Mark Walczak among many other retired NFL superstars. Mike Haynes and Roy Green have been actively supporting the "Tackle Sleep Apnea" campaign. The Pro Player Health Alliance' national campaign has already treated over 150 former NFL players. Many players have been loyal and outspoken advocates of spreading awareness of the deadly disorder across the country. Joined with David Gergen, owner of Gergen's Orthodontic Lab and founder of the PPHA, they have been on a mission to "Tackle Sleep Apnea" nationally.
Mike Haynes is considered, by many, to be one of the best corner backs ever to play the position. Mike Haynes, a nine-time Pro-Bowl defensive back of the National Football League and member the NFL Hall of Fame, was known for his quickness and range of motion when he played for the New England Patriots and the Los Angeles Raiders. Unfortunately Mike was unable to avoid prostate cancer which is believed can be triggered by low oxygen levels, one of the many serious complications that come with sleep apnea. Mike officially announced that he will be helping to educate the public on the effects of sleep apnea after being treated by Dr. Bradley Eli recently.
"I am thrilled to see the momentum that we are making to help spread awareness of sleep apnea on a national level with these fantastic NFL greats!" said Gergen. "Spreading awareness at these events and screenings and through radio and television has been wonderful. I believe by spreading awareness we can save lives."
Pro Player Health Alliance events gather up to 500 people that are diagnosed and undiagnosed with sleep apnea. A majority of attendees report snoring, morning headaches, daytime fatigue, irritability, high blood pressure, hypertension and diabetes. These are all serious health issues that are linked to sleep apnea.The players say, "He is the guy to go to for sleep apnea." Registration or this event can be found at http://pphasandiego.eventbrite.com/.
Event Details
Date: May 21, 2013
Time: 7:00 PM
Location: Scripps Schaetzel Center, 9890 Genesse Ave La Jolla, CA
About David Gergen
David Gergen, CDT and President of Pro Player Health Alliance, has been a nationally respected dental lab technician for over 25 years. He received the award for "The Finest Orthodontic Technician in the Country" given by Columbus Dental in 1986. He also has been appointed chair of the dental wing of the American Sleep and Breathing Academy a national interdisciplinary academy dedicated to sleep training and education with over 60,000 members. He has worked for some of the pioneers in the orthodontic and sleep dentistry fields. He was the personal technician for the likes of Dr. Robert Ricketts, Dr. Ronald Roth, Dr. A. Paul Serrano, Dr. Clark Jones, Dr. Harold Gelb, Dr. Joseph R. Cohen, Dr. Rodney Willey, Dr. Allan Bernstein, and Dr. Thien Pham. One of his proudest achievements is receiving The National Leadership award for Arizona Small Businessman of the Year in 2004.
About Dr. Bradley Eli
Dr. Eli earned a post-doctoral Master's Degree at UCLA where he received advanced training in sleep disorders. He remains the only expert with this unique skill set in the San Diego region. Dr. Eli is on the hospital staff at Scripps Memorial Hospital La Jolla and UCSD. He is a member of numerous professional associations including the American Academy of Sleep Medicine and the American Academy of Dental Sleep Medicine. He holds multiple patents in the fields of both sleep and pain.