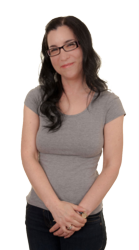 Becky had got to that all too familiar stage in her weight gain by stopping weighing herself for fear of the confirmation of her worst nightmare, continuing to pile on the pounds
Wallington, Surrey, UK (PRWEB UK) 21 May 2013
Rebecca was a takeaway fiend, eating them 3 or 4 times a week. Not just takeaway, but double portion takeaway. She would regularly order a Chinese but she would order twice the size as everyone else, sometimes 3 or 4 portions just for herself.
This love of takeaway food had taken her to dress size 14 and 14 stone at the tender age of 32.
Rebecca tried various diets including Weight Watchers, Slimming World and Atkins in the past and, although she had lost weight, she had always put it back on and more. She began to believe that she did not have the willpower to lose weight.
Rebecca said: "I felt I had tried everything else."
But after successfully completing the Surrey Institute's weight loss programme using hypnotherapy, her life changed.
When asked about her cravings for takeaway, she said, "It just didn't happen. I'd think about it but I just didn't have the desire any more."
These changes in behaviour are fairly typical for clients that have hypnotherapy for weight loss with the Surrey Institute of Clinical Hypnotherapy.
Becky was initially drawn to hypnotherapy as she had read some reports in the press regarding the 'Hypnotic Gastric Band'. Further to her consultation with Paul White, the behavioural change specialist at the Surrey Institute of Clinical Hypnotherapy; she decided that the hypnotic gastric band was not the appropriate way forward.
Paul White said: "Becky had got to that all too familiar stage in her weight gain by stopping weighing herself for fear of the confirmation of her worst nightmare, continuing to pile on the pounds."
White continued, "Becky had developed very negative patterns of thought and behaviour, blocking out potential negative outcomes of her weight problems and bingeing on crumpets and cheese and double portions of Chinese takeaways."
Her weight has dropped to 9 stone, meaning she had lost an incredible 70 lbs in just 8 months, which, when you think about it, is only just over 2 lb a week on average.
The important thing to notice is that a 2lb weight loss per week is a long-term sustainable target for most people that are overweight, especially if achieving it is not a chore.
Whilst running their weight loss programme at the Institute, they have come across virtually every type of inappropriate behaviour around food and have strategies to deal with all of them. The great thing about using something like hypnotherapy is that it does not matter if the client is dieting or not, as it works on the behaviours and when they change, the food consumption changes naturally.
By seeking to replace any negative thoughts or behaviours with positive ones, clients begin to see changes with eating habits and improvements in feelings of well being. They will then not only feel better about the food they consume, but also begin to feel happier.
Paul White has been Chairman of the National Council for Hypnotherapy for five years. He has been a Director of The Surrey Institute of Clinical Hypnotherapy for 11 years. He has a special interest in weight control and problem behaviours (addictions).
Rebecca is available for interview. Please contact Paul Howard 020 8669 6990 to arrange an interview.