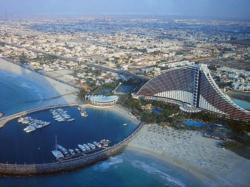 Dubai, UAE (PRWEB UK) 21 May 2013
Hosted by global summit organiser, IRN, The Iraq Infrastructure & Construction Summit will take place 22-23 May at the Jumeirah Beach Hotel in Dubai. The conference will be officially opened by the Iraqi Deputy Prime Minister for Reconstruction and Services, Dr Salih Al Mutleg, who will emphasise in his speech the need for huge investment in infrastructure projects in Iraq. He will also unveil government policies to support international companies and investors willing to work in Iraq and help to underpin its development and transformation into market economy.
The conference will also see the active participation of the ministers of Transportation, Mr Hadi Al Amiri, Construction and Housing, Mr Muhammed Al Darraji, Municipalities, Mr Adil Mhodir, Planning and International Cooperation & Finance, Dr Ali Al-Shukri, and Deputy minister for Communications, Mr Ameer Al Bayyati.
There will also be participation by senior officials from other institutions among which are the Ministry of Youth & Sport, Reconstruction & Development Bureau, National Investment Commission, Baghdad Provincial Council, UK Trade & Investment, and British Water.
The conference has drawn interest from International as well as Iraqi investors. In attendance will be: Multinational companies, Chamber of commerce from Iraq and international governmental representation via embassies and consulates in the UAE.
The purpose of this senior-level meeting is to discuss projects and opportunities up to tenders in various ministries, and the investment projects in Iraq which offer lucrative returns for investors.
Iraqi ministers and officials will use the summit to unveil government plans and incentives to attract investors and foreign companies to come to Iraq and take up lucrative contracts.
There will be particular emphasis on sectors such as transportation, national infrastructure, regional infrastructure, urban development, housing, social infrastructure, funding and finance. This will take the form of high-level presentations, case studies, exclusive governmental updates and roundtable discussions from Iraq Government Officials, business specialists and International companies with long-standing projects in Iraq.
It's a unique opportunity to hear from senior Iraqi governmental officials who will outline plans, updates and projects in their respective departments, discuss the needs and requirements to meet targets and offer opportunities to those available and interested in investing in Iraq.
For more information about the summit and for registration inquiries, please contact Jessica Jonah at JessicaJ (at) irn-international (dot) com, Tel: +44(0)207 111 1615