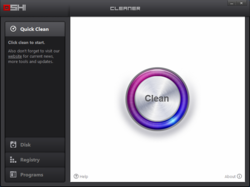 OSHI Cleaner helps to identify unwanted/malicious programs and allows to disable or completely remove them.
(PRWEB) May 23, 2013
Rising company OSHI Software has just announced the release of the new disk and registry cleaner on the market. OSHI has produced a powerful piece of software that scans PCs and actually improves speed and performance by restoring the PC's registry to its optimal configuration, while freeing up disk space by cleaning out old junk files. OSHI Cleaner software has been painstakingly developed by engineers and computer savvy personnel, and was released earlier this year. The software scans the computer, looking for redundant keys and fixes them. This process happens as part of the Quick Clean operation besides disk cleaning to free up space. The software can be put on auto run, starting the moment that the PC is turned on.
OSHI software is easy to use and comes in a compact form. The software should be started and booted after each time the PC is turned on to rescan and dispose of potentially harmful errors. It is Windows 8 compatible and user friendly. In addition to freeing the computer of registry errors and junk files, it also discards infected programs. The software conducts a thorough cleaning which includes: temporary files, windows error reporting, windows logs and recycle bin items. The start-up management can disable various forms of spyware, which are often found in the auto-run locations of Windows. In turn, this makes the computer run faster, like a well-oiled machine.
A computer registry is a substantial batch of information about nearly everything which occurs on a computer. The registry is essential to the proper operation of the computer, but is also vulnerable to becoming corrupted. Because the registry contains thousands of entries, it is recommended that the computer's administrator use a registry cleaning program periodically. Windows based software is not known for being the most efficient, as is exemplified by the fact that it almost never deletes or removes registry keys even after the related program has been uninstalled, and this is where registry errors are most likely to occur. Left over and damaged registry keys can cause the computer to have slower boot times, slower load times, cause the computer to get "stuck" in certain places and sometimes to stop working while performing certain tasks. It is for this reason that it is recommended that the computer's administrator use OSHI Cleaner: to restore the PC's registry to pristine condition.
Here are the reasons a consumer should use OSHI's cutting edge software:

OSHI Cleaner helps to identify unwanted/malicious programs and allows to disable or completely remove them. For this purpose, OSHI Cleaner includes online digital signature check and several ways to get rid of harmful startup entries.
OSHI Cleaner cleans out accumulated junk and redundant files, helping to improve the performance of the computer.
OSHI Cleaner increases system stability and speed by cleaning the computer's registry.
OSHI Cleaner uninstalls old and unused programs. Some of these programs may be related to spyware or other malicious software.
OSHI Cleaner removes old restore points, freeing up valuable disk space.
For more information on OSHI's cleaner visit their website at http://www.oshicleaner.com/