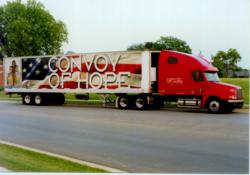 This is only the first phase of a full-scale response that will last for many weeks, if not months. - Hal Donaldson, president of Convoy of Hope
(PRWEB) May 21, 2013
International humanitarian relief organization Convoy of Hope is responding to the Moore, Okla. area this morning. Immediately after the devastating tornadoes struck, a Convoy of Hope assessment team was in the area and tractor-trailers were loaded with emergency supplies at Convoy of Hope's World Distribution Center in Springfield, Missouri.
"This is only the first phase of a full-scale response that will last for many weeks, if not months," says Hal Donaldson, president of Convoy of Hope. "In the coming days we will send more food, water and supplies to help families begin rebuilding their lives."
Early this morning, those tractor-trailers and specially-trained, disaster response teams members departed for Moore.
Those wishing to make a contribution to the OKC and Midwest tornado relief efforts can make a secure online contribution by visiting: http://www.convoyofhope.org. To place a $10 donation on your cellular bill, text the word CONVOY to 50555. Standard text and data rates apply.
About Convoy of Hope
Convoy of Hope, founded in 1994, has a long history as a first responder in times of natural disasters and has been a Four Star Charity as recognized by Charity Navigator for nine consecutive years. Convoy of Hope, a faith-based organization, has a driving passion to feed the world through children's feeding initiatives, community outreaches, disaster response and partner resourcing. Learn more at http://www.convoyofhope.org or follow us on Facebook or Twitter.
Convoy of Hope:
Jeff Roman, 417-942-7570
Public Relations Desk
jroman(at)convoyofhope(dot)org
or
Jeff Nene, 417-860-2196
National Spokesperson
jnene(at)convoyofhope(dot)org