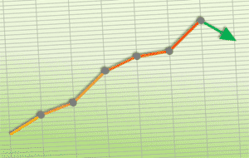 food price inflation could start to become a political issue for cash strapped Brits
London (PRWEB UK) 21 May 2013
According to the Office for National Statistics UK inflation fell to 2.4% in April 2013, down almost half of one percent (0.4%) from March (2.8%).
It's the first time that the Consumer Prices Index (CPI) has fallen in 6 months (since Sept 2012), but prices have not dropped universally. The ONS confirmed that poor weather had continued to hamper food production, resulting in food prices marching upwards - Indeed, UK food prices have risen by 40% since 2007.
Fortunately for British consumers the cumulative effect of lower fuel prices (UK average petrol and diesel prices fell by 2.1p and 3.9p a litre respectively) and cheaper air fares more than offset inflation elsewhere in the economy.
A spokesperson for leading personal finance comparison website, compareandsave.com, commented:
"Today's news will certainly be welcomed by British consumers, but it really emphasises some worrying underlying trends. Assuming the UK government's stated inflation target of 2% had been achieved since 2007 we would expect food prices to have gone up by around 12.5%.
It won't surprise UK families that prices have actually increased by 40%, over 3 times what we might have hoped for, but if they continue to increase at the same rate food price inflation could start to become a political issue for cash strapped Brits."
_______________
Notes to Editors:
compareandsave.com is one of the UK's leading personal finance comparison websites. Based in Colchester, Essex, compareandsave.com has been helping UK consumers get a better deal on credit cards, saving, loans and more for over five years.
For more information, please contact Mark Scott on 0207 195 1914