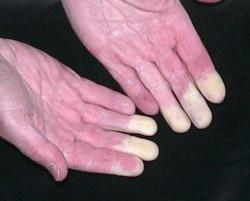 "Make sure that the tools and equipment you normally use have been properly maintained in order to reduce vibrations caused by general wear."
Bolton, United Kingdom (PRWEB UK) 30 May 2013
Vibration White Finger(VWF) is an industrial injury which mostly affects those using hand-held vibrating tools such as chain-saws, concrete breakers, disc cutters, sanders and more. The condition is also known as Hand Arm Vibration Syndrome (HAVS) as the condition can easily affect the rest of the arm it is also a secondary form of Reynaud's disease.
Recent research, published in April by Reactec, estimates that 300,000 employees in the UK have advanced symptoms of vibration white finger, whilst 22,500 workers in the north across a range of building disciplines are exposed to hand-arm vibration syndrome (HAVS) on a regular basis. (1)
Workers continuously exposed to vibrations between 5 and 2000Hz must be aware of the high risk as damages are permanent. Fortunately, HAVS is preventable as there are easy and cost-effective ways to reduce the risk of being diagnosed with this condition. Unfortunately for those surveyed, not everyone received this level of protection (2)
Employers must protect staff against the risk of HAVS and vibration white finger, so where an employee believes that they may have been affected by one of these conditions, they should ask their employer whether all the measures are in place to reduce such a risk.
Speaking to Adriano D'Ambrosio at Asons Solicitors, he advises that:
"You have to make sure that the tools and equipment you normally use have been properly maintained in order to reduce vibrations caused by general wear. Do not forget to take breaks in between tasks and encourage blood circulation by wearing gloves and exercising your fingers. Prevention is better than needing a cure."
Asons also advise that smokers may have to cope with an even higher risk, as smoking causes blood vessels to constrict and the blood flow to reduce: therefore smoking cessation is highly recommended. Other drugs that inhibit blood flow should also be avoided.
Symptoms to look out for include:

Numbness or tingling feeling in your finger tips.
Fingers or finger tips turn white due to restricted blood flow.
Loss of grip which may degenerate up to disability of the hands.
Aggravation of the general condition in cold weather.
Vibration white finger symptoms can be very frustrating and, in extreme cases, lead to accidents. Numbness and tingling feelings affect the ability to perform very simple tasks such as handling small objects or pressing buttons.
If you have been experiencing some of these symptoms do not hesitate to report your medical condition to your employer and visit your GP. Also, seeking specialist legal advice is crucial when dealing with a HAVS diagnosis in order to prove any employer's negligence and make a Vibration White Finger Claim.
The damages caused by Hand Arm Vibration Syndrome are permanent -once developed - there is no cure, which is why employer's negligence should not be tolerated, by making a personal injury claim an employee may be able to protect fellow colleagues from the same fate.
Although some people may be reluctant to make a claim against their employer, employers are unable to dismiss employees for making a claim, as it is their legal right. The outcome of legal action can lead to a significant improvement in health and safety conditions of a victim's workplace whilst guaranteeing their colleagues a better future.
To find out more on how to make a claim for Vibration White Finger Claim Compensation, visit Asons Solicitors at http://www.asons.co.uk, or they can be contacted directly on: 01204 521 133
(1) http://www.irishnews.com/business/vibration-risk-warning-1250535
(2) http://www.personneltoday.com/articles/01/05/2013/59145/how-to-handle-hand-arm-vibration-syndrome.htm

About Asons Solicitors:
Asons Solicitors is a Bolton-based law practice that specialises in personal injury and industrial disease claims. Founded by brothers Imran Akram and Kamran Akram, Asons Solicitors has developed to become a young and dynamic law firm that delivers practical solutions to clients in times of difficulty. Their continued focus on their staff has seen them awarded with the Investors in People "Gold Award"; which is reflected in the professional and personable approach they take in working with clients. They strive to grow and to develop, and their supportiveness and attention to detail ensures that their clients use them time and again.
For further information contact:
Email: info(at)asons(dot)co(dot)uk
Website: http://www.asons.co.uk