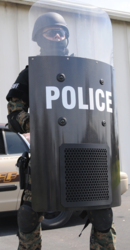 End users are always impressed with the quality and design of Ultra Electronics – USSI products.
Columbia City, Indiana (PRWEB) May 22, 2013
Ultra Electronics – USSI announces today that it has received a large order for HyperShield Acoustic Hailing Devices (AHDs) from Southeast Asia.
The HyperShield is a riot shield and a long range speaker system combined into one with a peak acoustic output of 140 dB. Operators of the HyperShield have the protection of a standard riot shield and have the ability to communicate with potential threats from a safe standoff distance. The HyperShield can send crystal-clear voice messages 500 meters and beyond. Users can quickly deploy and carry the HyperShield due to its carbon fiber construction giving it a weight of only 17 pound.
"We are very excited to see a growing demand for the HyperShield," said Patrick Allison, Head of Marketing and Sales at Ultra Electronics - USSI, "Our unique product line helps keep law enforcement personnel safer and gives them another tool when dealing with unruly crowds."
"End users are always impressed with the quality and design of Ultra Electronics – USSI products," said James Martzall, Business Development for HyperSpike. "Our manufacturing facility is world class and our production team prides itself on building the highest quality AHDs."
The HyperShield also comes equipped with a commercially available SD memory card, allowing operators to quickly and easily upload custom audio tracks. Another distinctive feature of the HyperShield is the emergency shutoff function. A user simply connects a strap to their belt and if a potential threat disarms the original operator of the HyperShield, the speaker system would become inoperable .
Ultra Electronics - USSI is an innovative global supplier of highly intelligible, ruggedized, long-range acoustic communication devices, and high-power and commercial speaker arrays. Being deployed worldwide, these products are used in diverse applications such as crowd control, mass notification, border/port security, law enforcement, maritime security, perimeter protection, and more. To find out more or request a demonstration, please visit http://www.Ultra-HyperSpike.com.