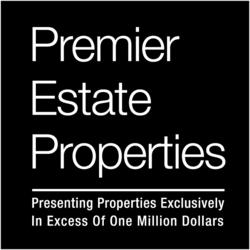 (PRWEB) May 21, 2013
With a 20 year history of unprecedented performance selling the most million dollar-plus properties and the most record breaking sales in their geographic market, Premier Estate Properties' Estate Portfolio currently totals an astonishing $1.25 Billion; reflecting the trust, confidence and loyalty of their affluent clientele.
Premier Estate Properties' sterling reputation spans the globe as evidenced by the congratulatory testimonials received from their powerful and prestigious International affiliations:
"Christie's International Real Estate is proud to congratulate our distinguished affiliate Premier Estate Properties on their 20th Anniversary. World renowned for setting the highest level of standards since their founding in 1993, they have garnered the respect and admiration of luxury brokerages around the globe. Premier Estate Properties continually exceeds our expectation for preeminent client services and demonstrates a proven record of unparalleled success," states Bonnie Stone Sellers, Chief Executive Officer
Christie's International Real Estate.
"Premier Estate Properties is one of the world's finest examples I know of a luxury real estate company at the very top of its game. It shows in their agents and it shows in the no compromised leadership of Joseph Liguori, Carmen D'Angelo and Gerard Liguori. They never compromise on style, on detail or on service. That is what defines them and that is what makes them the best at what they do- purveyors of estate properties solely above one million dollars," congratulates Nick Churton, Managing Director of Mayfair International Realty.
Founded by Brokers/Owners Gerard P. Liguori, Carmen N. D'Angelo, Jr. and Joseph G. Liguori in March of 1993; Premier Estate Properties is world renown as the only real estate company "Presenting Properties Exclusively In Excess Of One Million Dollars." The distinguished brokerage firm is proud to celebrate 20 years of historic and continuous success.
Noted for setting the highest level of standards, Premier Estate Properties is comprised of only the most eminent and talented Estate Agents in the high-end luxury real estate industry who service a select clientele in six exclusive Florida offices: Old Boca Raton, Suburban Boca Raton, Delray Beach, Fort Lauderdale, Vero Beach and Naples
For further information on Premier Estate Properties' real estate services, please call 866-281-3884 or visit Premier Estate Properties' Corporate Office, 800 East Palmetto Park Road, Boca Raton, FL or on the Internet at premierestateproperties.com.