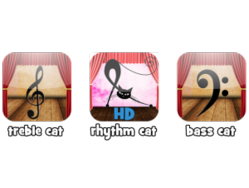 This is an amazing app. I am a music educator and my students love this!
London, UK (PRWEB) May 21, 2013
LMuse Limited, the London based company, has now completed its series of music education apps for iPhone, iPad, Android and Kindle Fire.
The apps have been designed in a friendly game format suitable for all ages 6 and above. As a player progresses through the levels, they feel as though they're playing a game, but are also picking up valuable music theory and sight-reading skills along the way.
Designed and created in collaboration with professional musicians and educators, the games help both kids and adults learn how to quickly identify notes and rhythms. There are three different apps that cover the basics of rhythm, treble clef and bass clef.
These apps can be used by beginners and have been successfully employed in classroom settings as a great tool to accompany formal music tuition.
LMuse Limited has developed their "Melody Cats" series as a fun way for beginners to get past the most challenging and often discouraging introduction to reading music. The aim is for the user to feel enthusiastic, encouraged and learn skills that can be transferred to any musical instrument.
For more info, visit: http://melodycats.com.