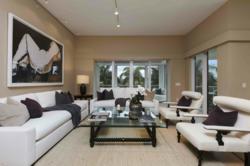 Naples, FLA (PRWEB) May 21, 2013
Naples Estate Properties provides their heartfelt congratulations to its exclusive associate, Meridith Baer Homes, who will host their own television show, "Staged to Perfection", on the HGTV Network. The first two inaugural shows will air Saturday, June 1st at 5:00 pm. One of the upcoming shows may feature one of Naples Estate Properties listed estates staged by Meridith Baer.
The network's 7.2 million-household audience will give Meridith Baer's award winning home staging services even more exposure to affluent clientele, which already includes celebrities such as Halle Berry, Bob Dylan, Harrison Ford, Ben Stiller, Dennis Quaid, and Amy Adams.
"The show is about the process of staging and each show will feature two installations. The most exciting part of each show is the reveal. When you see the finished project you can't help but say "wow!" It is really fun to watch the transformation," states Owner, Meridith Baer.
"The award winning home staging services of Meridith Baer Home is an invaluable service that only Naples Estate Properties can offer to their select clientele. It is an extraordinary and exclusive benefit that will further position only Naples Estate Properties' clients for success in expediting the sale of their Naples residence," states Broker/Owner Gerard Liguori.
Baer's team is known for its uncanny ability to hand-select furnishings and décor that are exactly what potential buyers would own. The selections are made from the firm's Los Angeles, Florida and Connecticut warehouse which includes furniture, art, books, silverware and touches of ready-made character. What Baer does not have in her collection, her staff of 70, including decorators, movers, carpenters and upholsterers, will construct or find.
Baer has completed many Florida staging projects in Naples, Boca Raton, Highland Beach, and Fort Lauderdale.
For further information on Naples Estate Properties' real estate services, please call 239.262.0022 or visit Naples Estate Properties' Corporate Office, 296 14th Avenue South, Pettit Square, Naples or on the Internet at http://www.naplesestateproperties.com.