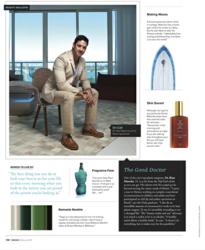 A plastic surgeon's role is to create, restore or refine normal human form and function
Miami, Fl (PRWEB) May 22, 2013
This summer is an exciting one for all women considering breast augmentation. While breast augmentation in general has an incredibly high patient satisfaction rate, one plastic surgeon was never comfortable with conventional results. Dr. Rian A. Maercks, of The Maercks Institute in Miami, refused to perform breast augmentation in the manner it is taught in residency programs, the dual-plane or submuscular approach. " A plastic surgeon's role is to create, restore or refine normal human form and function. Conventional standard of care techniques of breast augmentation simply do not fit into this defined role in my opinion and I was never willing to deliver such results." Dr. Maercks belief system led him to develop the Cold-Subfascial Breast AugmentationTM in his Miami private practice. This revolutionary technique delivers results that can easily be mistaken for natural. "Just because exceedingly low and widely splayed apart breasts with abrupt transitions from flat chest wall to torpedo like projection are accepted by the public doesn't mean plastic surgeons should accept this as acceptable- this is not human form." " In my opinion the dual-plane technique is a predictable recipe for low, down and out positioned breasts that look anything but natural."
Dr. Maercks' work in breast augmentation and his unique brand of plastic surgery results that look untouched and beautifully natural has created a demand for these techniques, however cost can be a barrier to care for some patients in Miami where low cost breast augmentations are commonly available for $3000-5000. The recent Maercks Institute Summer Subsidy has drastically reduced the cost of Cold-Subfascial Augmentation and created a large response. This week The Maercks Institute announced that the subsidy would also be extended to women who require a lift as well and to the huge population of women in Miami with undesirable sequelae of dual-plane techniques such as widely splayed breasts with a "down and out appearance." We expect this summer to be an uplifting one for Miami!
Women interested in taking advantage of the summer subsidy can schedule a private consultation with Dr. Maercks at The Maercks Institute, just outside of Miami's exciting design district. Limited private consultations can be scheduled by calling (305) 328-8256, emailing Dr.Rian@RianMaercksMD.com or directly booking through http://www.RianMaercksMD.com.