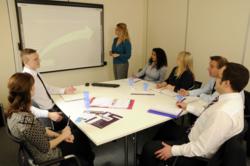 The government have accepted proposals to give schools more flexibility over the way they pay their teachers.
(PRWEB UK) 21 May 2013
From September 2013 maintained schools will have more freedom over the salary they allocate to teaching staff.
The government have accepted proposals set out by The School Teachers' Reform Board (STRB) to change the way teachers are paid.
The School Teacher Review Body report was published on 5 December 2012. The changes will mean that a teacher's pay and progression will be dependent on performance and progression of pupils. Teachers will no longer automatically progress based on the time they serve with an increase in salary every year for the first 6 years of their career. Instead, schools have the option of not recommending pay progression if a teacher's performance is only satisfactory as opposed to good.
Michaela Powell, Director of recruitment agency Aspire People, said: "This announcement hasn't come as a shock to the industry. Its been on the cards for some time, the government want to give schools more and more autonomy and teacher pay was inflexible."
The Secretary of State accepted the STRB's recommendations on the grounds they will provide greater autonomy for schools so they can develop pay policies that can attract and retain teachers and enable teachers to be rewarded in line with their performance rather than the time they have served.
Michaela continues: "This will affect the supply teaching industry. After the introduction of the Agency Worker Regulation, teachers who have worked in a school for a qualifying period of 12 weeks or more are entitled to the same pay and conditions of a permanent teacher. If schools choose to change their pay structures they must ensure temporary staff, who have worked 12 weeks or more, are paid the same salary as an equivalent permanent member of staff doing the role of a supply teacher. Schools must make sure they give their education recruitment agency up-to-date information on levels of pay for different teachers and confirm in writing pay structures. This will demonstrate the lengths the school has gone to, to ensure temporary workers receive equal treatment after the 12 week qualifying period."
Schools will be able to implement changes to pay structures from September 2013. Michaela Powell set up Aspire People in 2005 and has grown the business from a 1 woman operation to a staff force of 40. Aspire People offers teaching jobs and school office and technical support roles to job seekers across the west and east Midlands.
Aspire People
Plantsbrook House
94 The Parade
Sutton Coldfield
B72 1PH
0121 314 3606