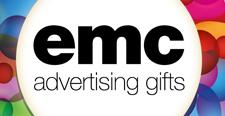 (PRWEB UK) 22 May 2013
EMC Advertising Gifts and Green & Black's have ventured into a new partnership to supply special chocolate selections with corporate branding. The first products available are classic, milk and dark miniature collections, as well as a 90g treat collection and chocolate lovers collection boxes in various sizes.
Satin ribbon embroidered with the giver's logo and any wording they would like in or custom foil block wording can also be added, as can special wrap around sleeves can to complete the corporate branding.
EMC Advertising Gifts regularly update their extensive range of products, ensuring that their customers always have access to the most relevant and contemporary products. The continued evolution of their stock has seen EMC expand into clothing, leisure equipment and smart touch accessories. Now, with the acquisition of Green and Black's chocolate selection, EMC continue to lead the way in innovative advertising gifts demanded by businesses.
The partnership is designed to give businesses the opportunity to create lasting impressions, combining enduring sensory gratification with branded produce. The intense taste of Green & Black's organic, fair-trade chocolate, alongside the established reputation of the company, will contribute to a longer-lasting overall impact far beyond the heavily saturated promotional pen market. EMC are identifying this partnership as potentially one of their strongest to date, with mutual benefits assured for both Green and Black's and the companies choosing their chocolate as a promotional method.
Managing Director, Simon Kay, stated, "We are very excited to be working with Green & Black's and feel that their organic chocolates sit perfectly in our range as beautifully presented and desirable business gifts that will be fully appreciated by staff and customers alike."
He went on to say, "The selection boxes make a great leave behind for sales visits or can be sent out individually as part of our fulfillment service."
The range is currently featured on the EMC Advertising Gifts website at http://www.emcadgifts.co.uk and will be in the forthcoming catalogue which is due to be released in early June.