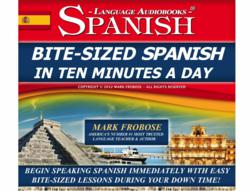 You can actually learn to speak a language in just ten minutes a day!
Mark Frobose/CEO
LanguageAudiobooks.com
Champaign, IL (PRWEB) May 29, 2013
Language Audiobooks CEO Mark Frobose announced today that his company has developed a revolutionary new method for learning to speak languages quickly and easily.
"You can actually learn to speak a language in just ten minutes a day," states Frobose, who recently created his company's new "Bite-Sized Spanish in Ten Minutes a Day".
Is it possible for people to learn to speak a new language in such a short period of time? According to Frobose, it is not only possible, it is the best way to learn a language.
"Languages are best learned one simple bite at a time, during people's otherwise wasted down time and waiting time," he explains.
When asked how to learn to speak more than one language, the multilingual wizard of language program creation responded with a question.
"How do you eat an elephant," asked Frobose? "One bite at a time."
According to Mark Frobose, the best place to learn a language is wherever you happen to have a few minutes of spare waiting time available.
"Waiting rooms, cars stuck in traffic, and red lights are all great opportunities for people to learn languages," he says. "What people need is a versatile language program like Bite-sized Spanish, Bite-Sized French, or Bite-Sized Italian that can conveniently fit into their busy schedules and teach them how to speak a new language while they wait for stuff," he concludes.
Language Audiobooks currently offers the nation's fastest and easiest to learn language programs. Their website also offers free audio language lessons in Spanish, French, Italian, Russian, Mandarin Chinese, German and Portuguese.