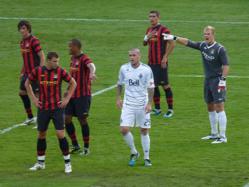 New York, NY (PRWEB) May 21, 2013
Diehard soccer fans will definitely want to see a match between two international powerhouse teams - the game between Manchester City and Chelsea FC at Busch Stadium this coming 23rd of May 2013. These two teams are highly decorated in the English Premiere League of professional soccer and they are bringing their A-game to the Busch Stadium, home of the St. Louis Cardinals, a professional MLB team.
This will be the first time that a professional sporting event and non-baseball game will be held in this stadium and this is a good opportunity to increase the fan base of the European soccer powerhouses in the North American shore.
The Manchester City Football Club is one of the richest teams, not just in the league, but all over the world. The FC was founded way back in 1880 (the Manchester City name was used in 1894). This team has seen ups and downs in the English Premier League and other important football leagues. Nevertheless, the most successful times for the team was during the 1960s and 1970s and when they won in the 2011-2012 season defeating a rival and one of the "Big Four" Manchester United. In the recently concluded 2012-2013 season, Manchester City was the runner-up to the champion, Manchester United.
On the other hand, Chelsea Football Club is one of the "Big Four" in the soccer world. Chelsea FC has won three Premier League titles. There are only five teams that have won in the Premier League since its inception – Manchester City and Blackburn Rovers with one; Chelsea FC and Arsenal with three; and Manchester United with 13. Chelsea FC last won the Premier league in the 2009-2010 season. They were the runner-up in the 2010 – 2011 season and in the last season, they finished third behind Manchester City (the runner up) and Manchester United (the champion).
Tickets for this soccer match are available online at Cheap Concert Tickets. Its a unique opportunity for American fans to get up close and personal to their favorite international soccer players. Book your tickets early! In addition to Manchester City vs. Chelsea FC, this popular ticket website also has tickets for Paul McCartney and The Rolling Stones.