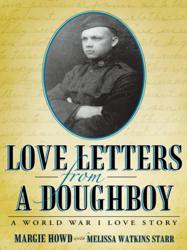 ORLANDO, FL (PRWEB) May 23, 2013
A classic tale of star-crossed lovers takes place with the unlikely backdrop of World War I uncertainty and Southern classism. In Love Letters from a Doughboy by Margie Howd, a chance meeting between two young people sparks a love story that crosses oceans, into the trenches of WWI.
Inspired by the story of her own grandparents' romance during WWI, Howd based much of the story on the letters they exchanged while her grandfather was serving in the war.
"When I discovered the letters that my grandpa had written to my grandma, I not only found a wonderful piece of family history," said Howd. "But I also found a beautiful story that needed to be shared."
The story begins with a chance meeting between two people from opposite ends of the social spectrum: wealthy Juliette Wilcox and poor Thomas Fletcher. As time moves on and their relationship grows, the young couple has to fight against judgment and the separation of war to keep their love alive.
"The feelings of this story ring true for many," said Howd. "Despite the differences in their social status, Juliette and Thomas fall in love and the strength of their love helps them overcome the many trials in their lives."
Love Letters from a Doughboy
By Margie Howd
ISBN: 978-1-4759-7747-9
Softcover retail price: $13.95
Hardcover retail price: $23.95
E-book price: $3.99
About the author
Margie Howd has a degree in Sociology from the University of Evansville. Now 63, she lives with her husband Jim in a large retirement area in central Florida called The Villages. This is her first book.