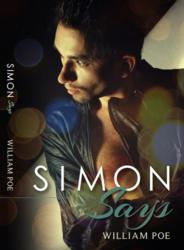 Simon Says by William Poe earns top honor in category of Fiction: Gay & Lesbian in the International Book Awards.
Los Angeles, CA (PRWEB) May 28, 2013
USA Book News announced the winners and finalists of THE 2013 INTERNATIONAL BOOK AWARDS (IBA) on May 20, 2013. Over 300 winners and finalists were announced in over 80 categories. Awards were presented for titles published in 2011, 2012 and 2013.
Jeffrey Keen, President and CEO of USA Book News, said this year's contest yielded over 1000 entries from authors and publishers around the world, which were then narrowed down to the final results, including the award-winning fiction novel "Simon Says" (ISBN 0615559573) in the category Fiction: Gay & Lesbian. Full results listing for all categories are available online at http://www.InternationalBookAwards.com
About the Novel:
In "Simon Says" (ISBN 0615559573), William Poe writes the fictional life of a man whose destiny has not been so different from his own. For nearly a decade, Simon Powell was a follower of the Reverend Sun Myung Moon and his cultish and highly controversial Unification Church. After breaking with the church, protagonist Simon returns to his home in Arkansas where he is haunted by the personal struggles that forced him to leave, including his drug addiction, his inability to accept himself as gay and a painful breakup with a lover.
While living in Arkansas just after leaving the Unification Church, Simon learns that his former boyfriend Lyle is out in Hollywood living with Sandra, secretary to a lawyer who defended Reverend Moon on tax evasion charges. Against his better judgment, Simon returns to California to seek out Lyle and Sandra. They were his only friends outside the church, even though they turned him on to cocaine. In Hollywood, Simon quickly begins to ramp up his cocaine use, picking up men in seedy hustler bars and taking up work for a shady European film distributor.
For a time, Simon seems to develop a real relationship with a stable man named Thad, but this too proves to be an illusion, and after their breakup, Simon tailspins into freebasing crack and laundering money for his boss through corrupt film deals. At a desperate end, Simon flees Los Angeles, heading home again, only to quickly lose himself in an orgy of sex and violence. With nowhere else to run, he enters rehab, seeking a fresh start.
In the conservative South, however, he is ostracized for being gay and is driven to the very ends of despair. To survive, Simon will have to draw upon inner resources he never knew he had and friends and family who must push past their prejudices to save him. With its examination of religious cults, Hollywood's gay scene, drug addiction and the seedier fringes of the motion picture industry, "Simon Says" is a novel cinematic in scope and timely in its themes and message.
"Simon Says", the award-winning fiction novel, is available for sale online at Amazon.com and other channels.
About the Author:
A writer and visual artist, William Poe earned a bachelor's in art from the University of Arkansas at Little Rock and a master's in anthropology from the University of Nebraska. He has written two books and several short stories. He joined the Reverend Sun Myung Moon's Unification Church when he was 18 years old and remained there for most of the next decade. "Simon Says", the award-winning fiction novel, is based on his experiences with the controversial church and his struggle to carve out an identity for himself as a gay man.
MEDIA CONTACT
William Poe
E-mail: simonsays (at) poegen (dot) net
Phone: (240) 478-0232
Web: http://simonsaysnovel.com
REVIEW COPIES AND INTERVIEWS AVAILABLE