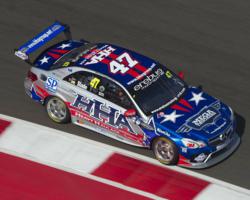 "It was exciting to see the DrugCheck logo on the Erebus Motorsport cars during the Austin 400. We'd like to thank Royal Medical both for their sponsorship of the team and their continued support." Rich Strasser, COO of Express Diagnostics Int'l
Blue Earth, MN (PRWEB) May 22, 2013
Express Diagnostics Int'l, Inc. (EDI), and Royal Medical Supplies Pty Ltd are pleased to announce a sponsorship agreement with Erebus Motorsport V8. Royal Medical is the Australian and New Zealand distributor of DrugCheck® onsite testing devices, manufactured by EDI. The Erebus Motorsport V8 Supercar Team participated in the Austin 400 May 17-19 in Austin, Texas.
Royal Medical Supplies has entered into an agreement that involves each car of the Erebus Motorsport team displaying the Royal Medical name and logo in Australian racing events. Erebus owns and races three Mercedes-Benz E63 AMG V8 Supercars in the Australian V8 Supercar series — the Australian equivalent to the American NASCAR® series. For races held in the U.S., the team's cars will also display the DrugCheck logo.
"We're very excited about partnering with Erebus Motorsport, which races the Mercedes-Benz AMG, a new make of race car for the V8 Supercar series," says Gavin Holland, director of Royal Medical Supplies. "This motor racing championship appeals to a high proportion of Australians and New Zealanders and our target customers will be able to enjoy some of the on-track and off-track benefits resulting from this arrangement. The cars competing in the championship held in Austin, Texas, displayed the DrugCheck logo as well, providing additional media and on-track exposure for the brand."
While sports team and event sponsorship is new to Express Diagnostics, the company welcomes Royal Medical's efforts to raise the visibility of the DrugCheck brand. "We value our partnership with Royal Medical Supplies and appreciate Gavin's commitment to promoting this U.S.-made product," says Rich Strasser, COO of Express Diagnostics. "It was exciting to see the DrugCheck logo on the Erebus Motorsport cars during the Austin 400. We'd like to thank Royal Medical both for their sponsorship of the team and their continued support."
Erebus Motorsport next races in the Skycity Triple Crown June 14-16 in Darwin, Australia.
About Express Diagnostics Int'l, Inc.
Express Diagnostics Int'l manufactures and distributes DrugCheck® on-site urine and saliva screening devices for the detection of drugs of abuse, as well as a growing catalog of health screening devices. With accuracy comparable to laboratory testing, Express Diagnostics onsite devices provide a variety of industries fast, cost-effective alternatives to higher-priced lab services. Learn more at drugcheck.com.