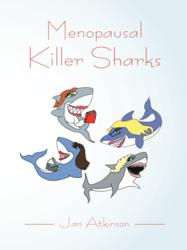 WASHINGTON, D.C. (PRWEB) May 23, 2013
Reminding women that menopause no longer just means hot flashes and the end of child-bearing, Jan Atkinson illustrates how the age of 50 can bring a new life of scandalous adventures.
Menopausal Killer Sharks is a narrative following four women who make 50 look like the new 20. Facing the trials of aging, dating and death while trying to find what makes them happy in life, these four friends narrate how jiggly butts, saggy breasts and a potpourri of men translate into the golden years of life.
This attorney by day and author by night sprinkles details from her own experiences throughout the book, as well as guides women treading in unfamiliar territory by providing checklists to get through the challenges of relationships as they enter the world of dating after 50.
"Many of the stories grew out of personal experiences and choices I have made; from divorce, death and dating, I have experienced it all," says Atkinson. "This book is for baby boomer women who are looking to identify with women of their age, as well as laugh."
With sex, sin and youthful escapades Menopausal Killer Sharks provides a relatable and hilarious outlook for women facing menopause.
Menopausal Killer Sharks
By Jan Atkinson
ISBN: 978-1-4759-7739-4
Pages: 121
Price: (SC) $11.95 (HC) $21.95
Available at http://www.iuniverse.com, http://www.amazon.com, and http://www.barnesandnoble.com
About the author
Jan Atkinson is an attorney who has been writing short stories for over 30 years. Her favorite pastimes are cheering for the Terps, Orioles and Ravens. She currently lives in northern Virginia.
# # #