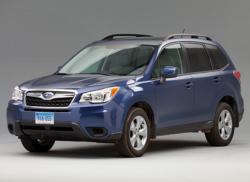 Overall, if you're looking for a small SUV that's very functional and fuel-efficient, the Forester is hard to beat.
Yonkers, NY (PRWEB) May 21, 2013
Consumer Reports tests found the redesigned 2014 Subaru Forester earned the top spot against a very competitive small SUV class – easily outpointing other recent redesigns including the Toyota RAV4, Honda CR-V and Mazda CX-5.
With the Forester's redesign, Subaru continues to put function in front of form. Consumer Reports notes that the Forester resists the contemporary trend toward making SUVs look more like sports coupes, instead focusing on the fundamentals with a space-efficient design, large windows, and big square doors. The result is the easiest access and the best view out of almost any vehicle. It also has one of the roomiest rear seats in the class, with copious amounts of head and leg room.
"Overall, if you're looking for a small SUV that's very functional and fuel-efficient, the Forester is hard to beat," said Jake Fisher, director, Consumer Reports Auto Test Center.
Also evaluated is the newly-redesigned Lincoln MKZ, which earned a "Very Good" overall score. The MKZ is the most appealing Lincoln in memory. If it weren't for the frustrating MyLincoln Touch controls, compromised visibility and other shortfalls, the MKZ might have been one of CR's highest-scoring upscale sedans.
Complete tests and ratings of the Forester and MKZ appear on ConsumerReports.org today, and in the July issue of Consumer Reports. Updated daily, ConsumerReports.org is the go-to website for the latest auto reviews, product news, blogs on breaking news and car buying information. Check out CR's ongoing Twitter feed at @CRCars.
By adapting various fuel-efficient technologies, including replacing the antiquated four-speed automatic transmission with a new continuously variable transmission (CVT), the Forester now delivers quicker acceleration as well as a class-leading 26 mpg overall and 35 on the highway in Consumer Reports tests. While the CVT is an annoyance in many other vehicles, it's largely unobtrusive in the Forester. Ratio changes are quick and responsive and engine noise is only noticeable during hard acceleration.
The Forester's redesign is not without trade-offs. The ride used to be calm and cushy, but now is rather firm and jittery. Handling is responsive and very secure, but CR's engineers found that the Forester isn't as agile as the Ford Escape, Mazda CX-5, or Toyota RAV4. And Subaru's in-car infotainment technology is behind the curve.
Consumer Reports tested the Forester 2.5i Premium trim stickered at $26,814. Because above-average reliability is anticipated, it is CR Recommended. To be Recommended, a vehicle must perform well in CR's battery of tests, have average or better reliability in CR's Annual Auto Survey and perform well in government and industry crash tests.
About Consumer Reports
Consumer Reports is the world's largest independent product-testing organization. Using its more than 50 labs, auto test center, and survey research center, the nonprofit rates thousands of products and services annually. Founded in 1936, Consumer Reports has over 8 million subscribers to its magazine, website and other publications. Its advocacy division, Consumers Union, works for health reform, food and product safety, financial reform, and other consumer issues in Washington, D.C., the states, and in the marketplace.
Note to the media: Consumer Reports has B-Roll and still images from its test track available upon request of the Subaru Forester.