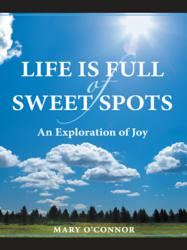 HARTFORD, Conn. (PRWEB) May 23, 2013
"Happiness is not something ready made, it comes from your own actions." – Dalai Lama
In Life Is Full of Sweet Spots, author Mary O'Connor draws on the experiences of some 40 assorted individuals who have found happiness in their own lives, and presents ways of finding joy in a world where sadness and loss seem to overshadow peace and contentment.
With its engaging narrative, nuggets of inspiration and supportive research, this surprising travel guide invites readers to explore joy's favorite hiding places: the earth, sea and sky, as well as, internally, our bodies, minds and souls.
"The search for joy and happiness in life is consistently triggered by both difficult and good times, by economic highs and lows, by sociological and psychological trends alike," says O'Connor. "This book creates a helpful framework of places to visit, things to do, useful facts and suggested resources, and in so doing, helps its readers discover their personal sweet spots of life."
Illustrated with photos of activities and treasures of joy, Life Is Full of Sweet Spots reinforces the use of individual interests and abilities as a means of seeing and owning joy. As shown in the world opened up in the pages of this book, sweet spots are all around us, just waiting to be found.
Life Is Full of Sweet Spots: An Exploration of Joy
By Mary O'Connor
ISBN: 978-1-4582-0803-3
Pages: 267
Price: (SC) $18.99 (HC) $35.99
Available at http://www.abbottpress.com, http://www.amazon.com, and http://www.barnesandnoble.com
About the author
Mary O'Connor is a writer, painter, poet, lover of nature, curious explorer and traveler. Journalist, marketer and public relations counselor by profession, she is the author of Dreams of a Wingless Child, a collection of award-winning verses published in nature and inspirational journals. Mary currently lives in Connecticut.
# # #