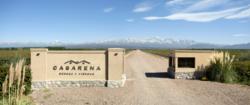 Mendoza, Argentina (PRWEB) May 21, 2013
On May 20, 2013, Decanter announced the winners of the 2013 World Wine Awards, now in their 10th year. This year, 219 wine experts from 27 countries (including 75 Masters of Wine and 13 Master Sommeliers) tasted through an all-time record of 14,362 wines to come up with 156 regional trophy winners.
The regional trophy for Best Argentine Malbec over 15 British Pounds ($20 USD) went to Casarena's 2010 Jamilla's Vineyard S.V. Malbec. Winemaker Bernardo Bossi is proud of the award and says, "Of the 5 regional trophies that went to Argentina, this is the most coveted."
Export manager Martin Perez Cambet says of Decanter, "The World Wine Awards provide yet-unknown wineries with the opportunity to shine on a grand stage. We hope to grab the attention of the European importers."
Casarena is currently available in the domestic Argentine market and is presently exported to the United States, Denmark, Brazil, and Mexico.
About Casarena Winery & Vineyards
Casarena is located in Lujan de Cuyo, Mendoza, Argentina, nestled into the foothills of the Andes Mountains at an altitude of over 3,000 feet above sea level. Referred to as the Primera Zona, Lujan is the first controlled appelation established in Mendoza... and is home to the most prestigious vineyards in Argentina. Our freshly renovated century old winery has a capacity of 900,000 liters to vinify the 400 acres of estate-owned vineyards of Casarena.
# # #