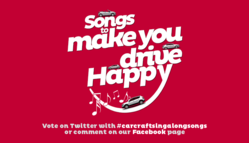 This is the nation's chance to cast their vote on the very best sing-along song.
Greater Manchester (PRWEB UK) 22 May 2013
Carcraft's Mission to Find the UK's #1 Driving Song
Everyone has a favourite song to sing along to whilst driving in their car. Be it an old classic or a mainstream hit, Carcraft has set itself a challenge to find out the nation's number one driving song.
People listen to music for several different reasons. Music can calm or relax people; it can help people through tough situations. Furthermore, it causes the brain to release the feel-good chemical, dopamine, so it's no wonder, turning the car stereo on is one of the first things people do in the morning.
Carcraft, the UK's leading used car supermarket, is currently running a social media campaign via Twitter and Facebook to find out the nation's favourite sing-along-songs. People can join in and cast their vote, simply by tweeting their favourite song title and artist using the hashtag #carcraftsingalongsongs. Alternatively, they can enter via Facebook.
Commenting on the campaign, Rebecca West from Carcraft said: "Music can be uplifting, calming and energising. Listening to a motivational morning song is a great way to lift your spirits and prepare you for the day ahead, especially when you are in need of some motivation.
"We hope the outcomes of the campaign will help us determine the UK's favourite driving song, whether it's a song that requires the stereo to be turned up high and the words shouted out, or a song your kids love singing to. Either way, this is the nation's chance to cast their vote on the very best sing-along song."
A full list of entries will be presented on the Carcraft website on Friday 24th May. Users can vote for their overall favourite from this shortlist.
To join in, Tweet @Carcraft with a song title and artist using the hashtag #carcraftsingalongsongs alternatively people can enter by posting their favourite tune on the Carcraft Facebook page (Facebook.com/Carcraft)
For more information about Carcraft, please contact: Tom Fitton at PushON on 0844 967 0565 or TomFitton(at)pushon(dot)co.uk