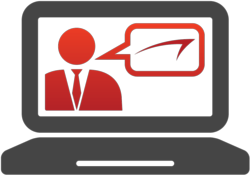 We listened when our customers asked for the ability to manage, track and report both instructor-led and online learning with one robust tool. – Vicki Fox David, Director of Product Management for RedVector
Tampa, FL (PRWEB) May 23, 2013
RedVector.com, the leader in online continuing education and workforce training solutions for the architecture, engineering, and construction (AEC) industry, recently added a new feature to its robust online learning platform: the ability to track and manage instructor-led training as well as online training.
While in-house training is valuable and allows for the delivery of critical information as well as real-time staff feedback, it can be difficult to schedule and track completion. RedVector's new instructor-led training capability addresses this challenge and delivers a simple and cost-effective solution.
For a minimal add-on fee to their RedVector Online University, clients can now manage all their training—both online and offline—in one convenient place. Administrators and training coordinators are able to standardize the ILT process with a simple tool that allows them to:

Create, edit and delete custom course content
Set up sessions for the course(s) in a classroom environment or webinar
Manage course rosters, waiting lists and attendance
Add and manage course exams
Quickly and easily run reports
Track ILT completion to ensure compliance
"We listened when our customers asked for the ability to manage, track and report both instructor-led and online learning with one robust tool; the new instructor-led training feature enables them to do just that," says RedVector Director of Product Management Vicki Fox David. "Our innovative Learning and Performance Engine now allows clients to manage instructor-led classroom training, web-based instructor-led training, and online asynchronous training all in the same place. Combined with our world-class library of online courses for AEC professionals, RedVector is a complete training and development solution."
As with other courses in their RedVector online library, clients may include ILT courses as part of a course package or certificate package. ILT courses may also be manually assigned as part of the Auto Assignment tool, and enhanced reporting functionality unique to ILT accompanies the new feature.
About RedVector
RedVector sets the standard for excellence in online continuing education and training for the architecture, engineering and construction (AEC) industry and holds more than 60 state and national accreditations. Through our award-winning Learning and Performance Engine (our version of an LMS) we offer individual courses as well as large-scale corporate training solutions for AEC firms featuring customizable and easily accessible online universities with a full range of tracking and reporting features. With an online library exceeding 1,100 courses authored by more than 100 subject matter experts, RedVector serves more than 160,000 AEC professionals in all 50 states. The recipient of numerous community honors and industry awards, RedVector was founded in 1999 and is headquartered in Tampa, Florida. For further information call 1-866-546-1212 or visit http://www.RedVector.com.